Estimated read time: 4-5 minutes
This archived news story is available only for your personal, non-commercial use. Information in the story may be outdated or superseded by additional information. Reading or replaying the story in its archived form does not constitute a republication of the story.
SALT LAKE CITY — When Russell Bloomdale enrolled at the University of Utah he started out as a business major. And like a lot of students, he changed his mind and his major.
It might just be the smartest move he ever made.
When he graduates Friday he will leave one of the nation's top computer graphics and game design incubators to begin a career with Zynga, a social network game development company based in San Francisco.
He'll hear esteemed University of Utah alum Ed Catmull, president of Walt Disney Animation Studios and Pixar Animation Studios, deliver the commencement address to graduates, and then slide into his new job and six-figure salary with the gaming company responsible for notable social networking titles CastleVille, CityVille, FarmVille, Empires & Allies and Zynga Poker.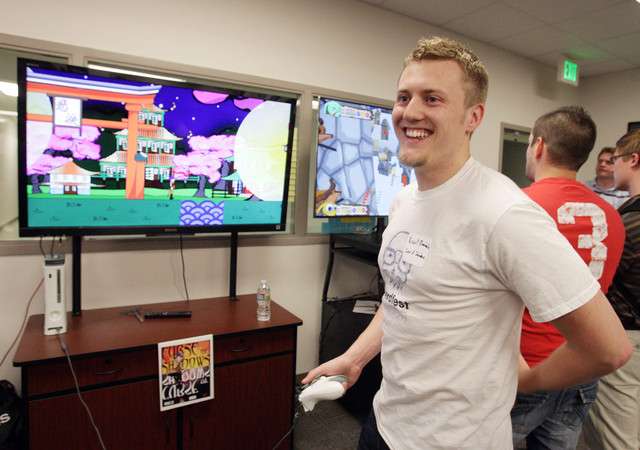 "When they made me the offer, I was very pleased and very impressed," Bloomdale said.
Such is the status and reputation of The Entertainment Arts and Engineering program at the University of Utah, ranked No. 1 among public universities in the U.S. for game development by the Princeton Review, and No. 3 among all universities nationwide.
Thanks to the success of the University of Utah's EAE program, the school has been able to bolster the facilities available to students and faculty, including the grand opening Wednesday of a state-of-the-art game lab located in the Merrill Engineering Building. The facility is filled with "gaming rigs" — powerful computers with the latest graphics processors, as well as a sound recording studio and games stations.
The program can attribute much of its stature and success to the visionary work that began on campus decades ago when the idea of computer graphics was first being researched by the likes of Catmull, John Warnock, David Evans and Ivan Sutherland.
Each studied at the university and would eventually become pioneers in the fields of computer graphics and computer science.
Catmull studied computer science and physics, earning both his bachelor's and doctoral degrees at the University of Utah. He helped revolutionize the movie industry with the first full-length feature film created entirely from computer graphics — "Toy Story" — and returns to address the graduates.
Al Davis, chairman of the computer science department and director of the university's School of Computing, was a graduate student in 1969 at about the same time many other future computer graphics leaders were conducting their research and teaching.
Fresh from his undergraduate work at MIT, Davis said he did not necessarily see what great advances were occurring.
"It just happened," Davis said. "I was too young to realize how special it was. In retrospect, I certainly realize it."
He said the environment was filled with "graphic-centric" enthusiasm led by great minds like Evans and Sutherland, pioneers of computer graphics, and Alan Kay, who was working on technology similar to what is seen in today's tablet computer devices.
John Warnock, co-founder of software maker Adobe, and Jim Clark, who developed graphics processing technology, were also there.
"It is pretty satisfying to know that you had a role in the early days of something that has gone way farther than any of us ever imagined," Davis said.
The legacy is seen along the Wasatch front, with the construction of Adobe's new $100 million facility just south of Point of the Mountain. Headquartered in San Jose, Calif., Adobe Systems Inc. was co-founded in 1982 by Warnock and Charles Geschke and now employs 800 people in Utah, and 10,000 worldwide.
Davis said considering all the research that was being conducted all over the country, the student researchers at the University of Utah were fortunate to have gotten started at the "right time and pointed in the right direction by a very talented bunch of faculty members."
He studied in Utah along with Catmull and Warnock, and Evans and Sutherland, whom he considers the true leaders of the computer graphics movement. Evans & Sutherland's eponymous company was formed in 1968. Their vision made them the first to draw pictures with computers, giving birth to the modern computer graphics industry.
Warnock held key positions at Evans & Sutherland prior to establishing Adobe.
"Utah has an amazing legacy of computer graphics," said Robert Kessler, EAE program director. "A lot of people say it's the birthplace of graphics."
Kessler said that many applications the school receives to its graduate programs in computer science come because of the strong reputation the school has for graphics.
"We are absolutely, positively the beneficiaries of (that reputation)," he said.
General commencement ceremonies at the University of Utah are Friday, 9 a.m., in the Jon M. Huntsman Center. The degrees to be awarded include 5,513 bachelor's degrees; 1,976 master's degrees; 600, doctorates; 131 juris doctorates; 100 are doctors of medicine; and 46 are doctors of pharmacy.
×
Photos
Most recent Utah stories