Estimated read time: 3-4 minutes
This archived news story is available only for your personal, non-commercial use. Information in the story may be outdated or superseded by additional information. Reading or replaying the story in its archived form does not constitute a republication of the story.
SALT LAKE CITY -- Last Friday BYU Athletic Director Tom Holmoe announced [some changes and renovations to the 40- year old Marriott Center]( ). The one change getting the most attention is moving the student section from center court to behind the basket.
There are many reasons why this decision was made. Some of it was financial and some of it was strategy. Financially, BYU will be able to make more money off of blue padded seats that will replace the north side benches. Strategically, having the students behind the west basket will put them by the visiting team's bench and behind the visiting team's basket in the second half.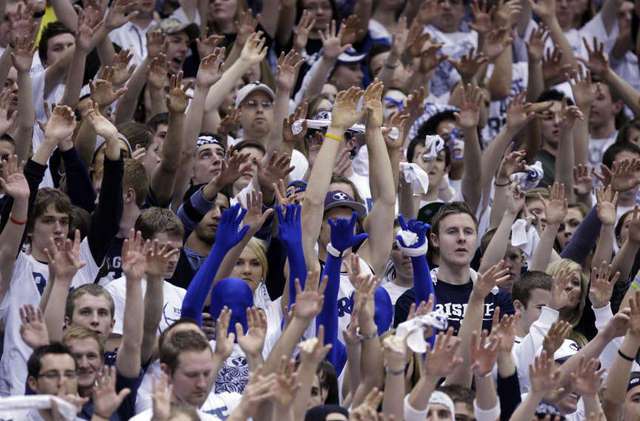 As you can imagine, not all of the students are thrilled about losing a pretty primo seat to watch a BYU basketball game. I completely understand where the students are coming from. They have been sitting center court forever and look at a move to the end zones as a demotion. To me it's not a demotion, its smart business.
I am not aware of too many student sections that have seats at center court. Almost every student section I have seen is behind the basket. Sure, we'd all rather sit at half court as opposed to behind the basket. However, by doing this it will allow BYU to take advantage of some financial opportunities and allow the student section to become even more of a problem for the visiting team. Just imagine how intimidating it will be to have BYU's student section so close to the opponent.
The important thing for BYU students is to continue to support this team and be the great 6th man that you've always been.
NFL Draft-A-Palooza
How popular is the NFL? It's so popular that ESPN held a 3-hour special this week to announce the schedule. THE SCHEDULE! The NFL is king and it's going to take a lot to overtake them in this country.
Related:
Another example of the NFL's dominance will be on display next week when they hold the 2012 Draft. There will be millions of people, including myself, that will park their fannies in front of the TV for three days just to watch teams pick their players. As sports fans we get why we do it. It's one of those things that makes total sense in your head, but it's hard to explain to someone else why you do it.
The NFL Draft is one of my favorite things. There are always surprises and great storylines. As a Chiefs fan, I am hoping that my team can find that perfect player that will help them take the next step. I have my fingers crossed that they can somehow come away with their quarterback of the future.
The other reason the NFL draft is so intriguing is to see what local players get taken. The state of Utah has some very talented athletes playing football. BYU's Matt Reynolds, Utah State's Robert Turbin and Utah's Tony Bergstrom are just a few local names that you'll hear get drafted.
The NFL Draft begins on Thursday at 6 pm and runs through Saturday night. Here's what you do: At 5:55 pm on Thursday, give your spouse and children a kiss. Tell them you love them and that you'll see them at church on Sunday. Enjoy the Draft. I know I will.
×
Related stories
Most recent Sports stories