Estimated read time: 8-9 minutes
This archived news story is available only for your personal, non-commercial use. Information in the story may be outdated or superseded by additional information. Reading or replaying the story in its archived form does not constitute a republication of the story.
BYU today announced major renovations to the 40-year old Marriott Center, including replacement of lower bowl bench seats and a shift of the student section from sideline to end zone.
*******
BYU Athletic Director Tom Holmoe announced the changes at the start of his annual Q and A luncheon with local media, held Friday afternoon at BYU's Student-Athlete building.
During the hour-long discussion, Holmoe touched on a variety of topics, from conference realignment to life in the West Coast Conference to a possible alternate football uniform.
You can hear Holmoe address the wide range of issues by going to "Cougar Cuts," left.
*******
The biggest news was of course the Marriott Center modifications and displacement of the students from their traditional home on the stadium's north side, to the seats behind the west basket. The students will be located adjacent to the visiting bench and behind the visiting basket in the second half of games.
I have called many games in arenas with similar seating setups, and while BYU students may have some reticence about the new arrangement, I think end zone student sections can have a significant impact on the general comfort of the visiting teams. I believe the change will ultimately be well-received and result in an advantage for the home team.
*******
Besides the student section modification, the announced improvements will create chair seating for every below-concourse ticket-holder.
The new seats replacing the north side benches will be blue and padded (see below), while all existing chair seats will remain the familiar stadium yellow. Holmoe said either painting seats blue or replacing the existing seats with blue seats would have been cost-prohibitive, adding that he hopes to fill the building so that seat color will be immaterial.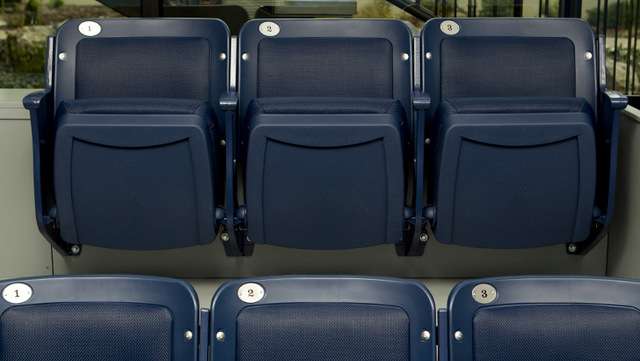 A new sound system and locker rooms for the men's and women's basketball teams will be part of the renovation, which is scheduled to begin early next month.
As part of the overhaul, the team benches and press table will be switched from south to north side at floor level, with the donor "Courtside Cougar" ticket-holders moved from north to south side at floor level. Additionally, the TV broadcast camera locations will move from north to south side, meaning game cameras will still face the team benches and press row. The oval Y logo at center court will be rotated to face the camera-side of the stadium.
All renovations are scheduled to be completed in time for the start of the 2012-13 basketball season.
*******
I encourage you to listen to all of Tom Holmoe's comments in Cougar Cuts--it's pretty interesting stuff, and I isolated what I thought were the most compelling issues discussed.
Here are a few quick Holmoe highlights, on--
Conference realignment:
"It's something that I think is going to be ongoing. Is it done? Is it sleeping, is it dormant? I don't know how to describe it. There obviously are still conferences that are jockeying, but for the most part, I think it has kind of died down."
"I certainly need to be able to keep open discussion with key friends of mine and people in the business, in conferences, to find out where they're at, what they're doing, to get the feedback from them."
"We continue to have discussions; to say that they're earth-shattering would be wrong. We're continuing to try to determine what the best pathway is going to be for BYU in the future."
"There are scenarios...from 'doomsday,' where we're left out, to 'we're in the best conference in America,' and everything in between. We have a contingency plan for everyone of those scenarios. In order to have those contingency plans, you have to re-shape them every time something new comes up."
--
Long-term viability of football independence:
"What's long-term? I'm scheduled out for a number of years; I think it's long-term...I think two years from now is long-term, for me. I think you can't plan beyond a year; who ever thought we'd be going year-to-year with the University of Utah in football contracts? So, I don't know what long-term means."
"I know that (independence) is viable now, and I would say that things won't change much at all through the BCS contract (expiring after the 2013 season). We've got two more seasons of football that are going to be pretty much similar to how they have been now."
--
Proposed BCS reforms:
"I think the (proposed) changes are good...those changes are pretty drastic. Some of the proposals would probably be fine for us, and we could go on as an independent, and get into whatever their series is going to be. Depending on what the entree is into the (new BCS), it could determine whether or not we would need to be associated with a conference.
Q: Does that scare you at all?
A: Yeah, sure, it does, because dealing with the unknown is always hard. The potential thoughts about what could happen are scary, but I don't think that the outlying things are going to happen, based on what I see. But, things change."
--
Late-season scheduling:
"It's still kind of in flux. Our 2013 schedule is really good in November. When you have time to negotiate and make deals, it's great. We have incredible freedom; more people I think come to us than any other team in the country, because we can do it. We have good offers, interesting offers, and our 2013 and 2014 schedules in November are good. I'll say it's better than any schedule BYU has ever played. The teams--they're better."
--
Status of a game contract with Utah in 2013, and beyond:
"We're continuing to talk; not contracted yet. As long as we're talking, I'm confident. (Utah AD) Chris (Hill) and I are good friends, we've worked on so many issues over the years, and if it wasn't going to go, we wouldn't be talking. I've pushed (a drop-dead date) a lot more than he has over the last two years."
"I would think (future contracts are) going to be shorter terms...we're both kind of looking with telescopes, trying to see what's out there."
--
BYU's first season in the West Coast Conference:
"I knew going in that it was going to be really competitive, and I think a lot of our student-athletes didn't really quite understand it. The top of the West Coast Conference is very competitive; I think across the board, almost every sport is better up top (than in the MWC). It was somewhat humbling for some people. If you look at St. Mary's and Gonzaga (in men's basketball), I think our fans underestimated how good they'd be."
--
Whether he's bothered by claims (including one from a San Diego State administrator) that BYU is "tough to deal with":
"No, because in that particular case, I know the person, and we spoke on the phone the next day. I think that USC is hard to deal with, I think Oklahoma is hard to deal with, I think Notre Dame is hard to deal with, I think Florida is hard to deal with. If you're not hard to deal with, you're not very good. If you're good, you're hard to deal with, and we dominated in (the Mountain West) Conference. And everyone knows it."
"We were good partners in that conference, and that person is a real good friend of mine, still. In that conference, we were allies, until we left."
--
Relationship with programs in the Mountain West Conference:
"Those were really dear friends of ours--some more than others--and (scheduling) discussions are going on right now. We're talking football right now with a couple of teams, and we're certainly willing to do basketball and the other Olympic sports at any time. There were some hard feelings, and I understand that, but they're professionals, and (scheduling BYU is) good for them. The games should be played. From day one I was open, and I still am."
--
Recently-tweeted picture (taken by a BYU Football player) of an alternate Nike uniform mock-up displayed to the team by coach Bronco Mendenhall:
"I apologize for that; it was our fault that it (went public). We've been talking with Nike about some type of alternate jersey for a while--couple of years. Sometimes Bronco will do some things internally, privately with his team...one day he threw that up, and it wasn't approved, but it was our plans, and to get kind of get the guys going, and you know, there was a black jersey up there, and somebody takes a picture. I don't know if that guy is going to wear a black jersey, but he took a picture."
"It was just something that was meant to be internal; nothing was solidified. What happens is when the cat's out of the bag, then we've got to answer the questions, and I don't know how to answer the questions, because it surprised me. Would I like to do that? Yeah, it would be fun. Could we do it? We're working with them. Will it be a big surprise? No, but we would just announce it.
Q: Is it a possibility this fall?
A: Yeah, it's possible."
--
*******
Photo: courtesy Jaren Wilkey, BYU Photo
×