Estimated read time: 2-3 minutes
This archived news story is available only for your personal, non-commercial use. Information in the story may be outdated or superseded by additional information. Reading or replaying the story in its archived form does not constitute a republication of the story.
SALT LAKE CITY - We had the pleasure of having Jazz VP (and major decision maker) Kevin O'Connor join us this past weekend on SportsBeat Sunday. All topics on the table, here are some of O'Connor's most choice insights.
On this furious late push to make the playoffs when his young, inexperienced (team and head coach) were left for dead when the season started, very few people anywhere outside Jazz Nation predicted they'd make the playoffs. They may still not but it's been a great run.
"I think Tom if I sat here and said 'here we are last few weeks of the season, we're back and forth for making the playoffs, what would you have said' to which I responded "playing all these young guys, I'd take it" to which KOC said "I think most people would. It's been a difficult situation for Ty, cause he hasn't had the practice time and he's playing 3 of the top 7 guys who have never even had a real training camp with us."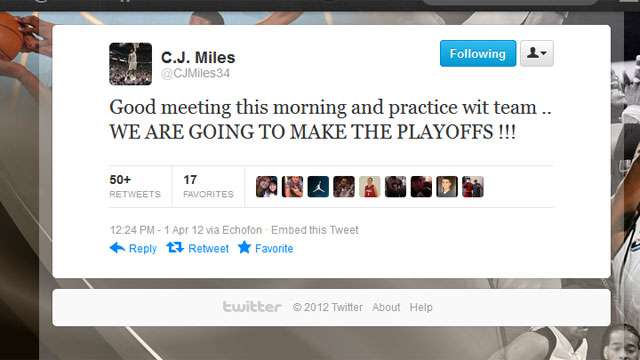 O'Connor's eying the draft but really wants no part of being a part of another Draft Lottery. "We've got a great opportunity now, lots of meaningful games, we're not playing out the string, trying to get into the playoffs cause that's what we aim for, I think you learn so much more about yourself playing in games like this rather than just…playing. Hey, nobody says an 8th seed can't beat a 1 seed (Memphis took out San Antonio just last season) or a 7 seed can't beat a 2 seed. That's the thing we're aiming for."
How does KOC feel about CJ's Sunday Tweet declaring "We are going to make the playoffs?"
"Look I don't mind players saying that, I would much rather they keep it to themselves but here's the key thing with that, I believe they believe that and they've believed that since the beginning of the season. They didn't believe that were going to be a last place team, we explained to them that this is not a rebuilding job, this is a deal where we're trying to learn on the run a little bit so for him to say something like that, you know what I say? I'm with you CJ, now back it up."
We'll see over the final 3 and a half weeks of the season if the Jazz can make CJ's words stick, and set up a 1st round playoff battle with OKC or San Antonio, or maybe they'll go on another run and slide up to the 6th spot. Whatever happens, this collection of young and restless, veterans and a coaching staff also learning on the run too has created a much needed spring buzz all over Utah.
I love your feedback @tksportsbeat or the traditional email of your thoughts need more than 140 characters tom.kirkland@ksl.com
×
Related stories
Most recent Sports stories