Estimated read time: Less than a minute
This archived news story is available only for your personal, non-commercial use. Information in the story may be outdated or superseded by additional information. Reading or replaying the story in its archived form does not constitute a republication of the story.
Eggs. Bacon. Ham. Hash Browns. Cheese. Sausage Gravy (with bits of sausage). All wrapped in a warm tortilla. 60 Grams of Fat. Good Mornin'.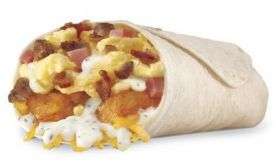 Is it time to put warning labels on dangerous fast foods? The amount of calories in items Americans eat every day is astounding. With child obesity becoming near epidemic, it's time to really start looking at what we eat. And how much. Or it's not, because all this stuff is so so good. We all have guilty pleasures, what is yours? Leave your comments.
YOUR TEXTS: "My wife and I love kfc. We will have kfc at least four nights a week. I love kfc and I love Kirkland ice cream."
"Big mac for me"
×
Related links
Most recent News stories