Estimated read time: 2-3 minutes
This archived news story is available only for your personal, non-commercial use. Information in the story may be outdated or superseded by additional information. Reading or replaying the story in its archived form does not constitute a republication of the story.
Sam Penrod and Marc Giauque Reporting A text message about a possible Columbine-style incident caused concern this morning at Granger High School. The threat turned out to be a misunderstanding, but school officials didn't take any chances.
There was a heavy police presence when students arrived at Granger High this morning. Word got out last night, through a text message sent to several students, that there could be a shooting during the lunch hour today. Principal Arthur Cox says the text message spread like wildfire.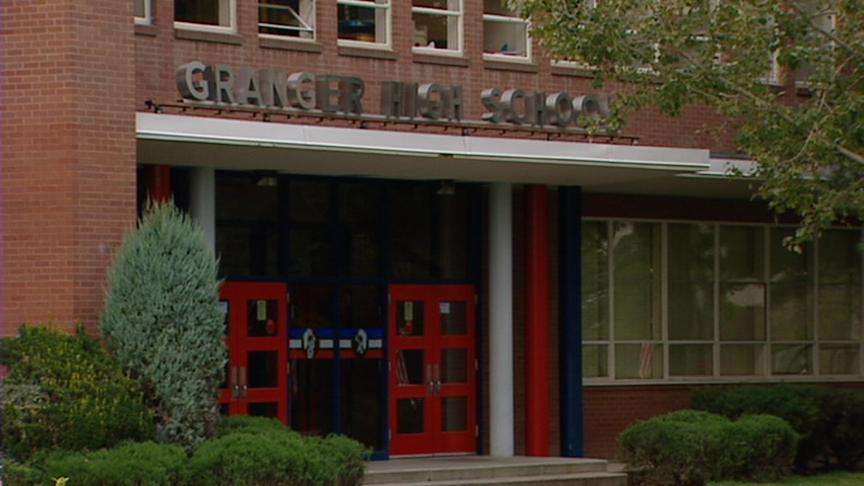 But by 8 a.m., West Valley police determined there was no criminal intent. West Valley Police Department Capt. Tom McLachlan says, "We have located the individual who initiated that text message. There was no malicious intent on his part."
McLachlan says, "He kind of wove two unfounded rumors together to this one and then was trying to warn his friends, but it's totally baseless. There is no threat."
However, news of the threatening text message was enough for some parents to take their children home early. Parent Catherine Jacketta says, "It's been scary, horrifying. You send your kids to school, and you trust they are going to be safe. And something like this happens, and it throws everything off."
Even parents who didn't have kids at the school were scared. "It's gone beyond Salt Lake County. We've had from administrators of other schools whose students are receiving this same text message," explained McLachlan.
While parents and students were concerned when they heard about the threat, the principal says the students who got it did the right thing by coming forward. "We had a lot of students, as soon as they got that text, coming to adults and staff members saying 'Hey, look at this.' So they are immediately giving information," says Cox.
In the end it was all a big misunderstanding that the school hopes students will learn from: that any talk of violence needs to be reported immediately, and any threats at school will be taken very seriously.
Police do not plan to pursue criminal charges against the student because it was not intentional.
The school will send out a voice mail message to all the parents tonight, informing them of what happened today.
(The Associated Press contributed to this article.)
×
Most recent Utah stories