Estimated read time: 4-5 minutes
This archived news story is available only for your personal, non-commercial use. Information in the story may be outdated or superseded by additional information. Reading or replaying the story in its archived form does not constitute a republication of the story.
IOWA -- Including the bowls, the college football season lasts 20 weeks. That only leaves 32 weeks for review, recruiting, spring practice, analysis, speculation, preparation and, well, hype.
Welcome to the offseason, where sports fans everywhere will try to figure out what went right, what went wrong and what's going to happen next.
As a fan, there are several ways to look at the offseason. Perhaps your team will be better because the same guys are coming back and they're bound to be better with more experience.
Or if you prefer, you can believe your team will be better because all those guys who underperformed last year have been replaced with new players who will be much better.
Even with months of reading over every detail, it's easy to miss potential pitfalls. Few, if any, BYU fans seemed concerned about installing a new scheme with a new coordinator during the spring with almost no healthy offensive linemen. Four weeks into this season with almost no rushing attack, it seemed BYU had to retool on the fly.
Also during the offseason summer of 2011, BYU fans had a plan. Maybe it would take two years, maybe it would take three, but there was a path to greatness and a lot of Cougar fans felt like they knew how to get there.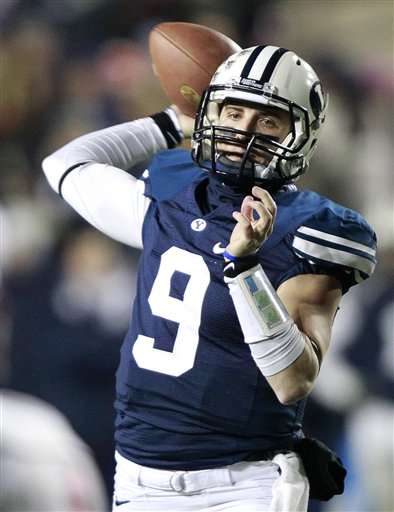 In 2013, the schedule is loaded with home games against the likes of Texas, Boise State and Georgia Tech. The team was going to be loaded with seniors; most likely led by what they thought would be four-year starter Jake Heaps.
Almost as soon as Heaps arrived on campus, some fans were looking at 2013 as the end-game "promised land" and the best chance to reach the pinnacle of the cyclical college football game.
That was the expected story and it has been completely thrown out the window. Now, Riley Nelson will be the senior quarterback for 2012, and the 2013 team will be led by someone that's yet to be determined.
Nelson's highs have been incredibly fun, but the consensus among fans seems to be that because of the lows, Nelson's celling just isn't that high. Part of me hopes that a lot of fans and media spend the upcoming offseason telling Nelson and his team what they can't do. That's seemed to work out pretty well for him so far.
No one expected him to ever start again, but look at what Nelson did in 2011:
Against Utah State, Nelson narrowly avoided a sack in the end zone, completed a Hail Mary bomb and converted a couple of first downs running the ball, all before throwing the tipped pass that won the game.
Against TCU, Nelson continued to make plays that were hard to believe. Some were good, like the run he made before high-fiving the ref. Others, like the two hard red-zone interceptions were not so good, but equally unexpected.
Against Hawaii, there was the insane, avoid-the-sack-and- toss-it-off-his-back-foot overthrow to Cody Hoffman.
Finally, last Friday, Nelson wrote himself into BYU bowl lore with an amazing 4th down run conversion and the audibled fake spike touchdown with 11 seconds left. Of course, he also kind of set up the dramatic comeback by throwing a few interceptions that put the team a few points behind.
Nelson's style of play and his unexpected rise to starting quarterback has followed no kind of script. What will BYU fans get next year?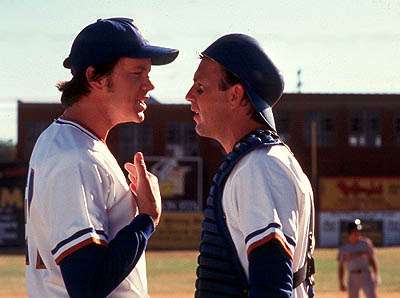 In Bull Durham, the greatest sports movie ever made, veteran catcher Crash Davis is asked to mentor a hot, young pitching prospect.
As the pitcher finally starts to play well, Davis approaches the mound with a new tactic: "I want you to throw the next one at the mascot," he says. "Why? I'm finally throwing it where I want to throw it," pitcher Nuke LaLoosh says. "Just throw it at the bull. Trust me." After seeing the Durham Bull's mascot get laid out, Crash and Nuke both laugh and the batter worriedly says, "This guy's crazy."
Now perfectly set up, the veteran catcher tells him, "Yup. I wouldn't dig in there if I was you. The next one might be at your head." And then very sincerely he adds, "I don't know where it's going to go. I swear."
That's what fans are seeing as they look at Riley Nelson. He's shown brilliant flashes. He's shown great leadership. He's overcome long odds to even take the starting job.
He's also thrown the kinds of passes that make fans break their remote controls in anger.
Fans are eager to see what the team looks like after Nelson is given a full spring and full fall camp as the unquestioned starter and leader.
I don't know where it's going to go. I swear.
Greg Welch, a contributor on CougarBoard.com, has followed BYU sports from six different states and currently cheers from Iowa. Professionally, he works at an ad agency and can be found at @ArtDirectorBYU on Twitter.
×
Related stories
Most recent Sports stories