This archived news story is available only for your personal, non-commercial use. Information in the story may be outdated or superseded by additional information. Reading or replaying the story in its archived form does not constitute a republication of the story.
FORT WORTH, Texas — The Brigham Young University football team will look to close out the season and gain some momentum heading into the off-season with a tenth win as they face Tulsa in the Armed Forces Bowl.
This will be the eighth meeting between the two schools, with BYU having won six times. The most recent game was a shootout between the Cougars and the Golden Hurricane in 2007; Tulsa head coach Bill Blankenship was in his first season on staff in Tulsa before being elevated to head coach before this season began.
Kickoff for the Armed Forces Bowl is scheduled for 10 a.m. MT and the game will be broadcast live on ESPN.
Blankenship met with the media earlier this week to reflect on the season leading to the bowl game as well as this week's showdown with BYU. Here is what he had to say:
On the bowl game and the positives of playing in a bowl: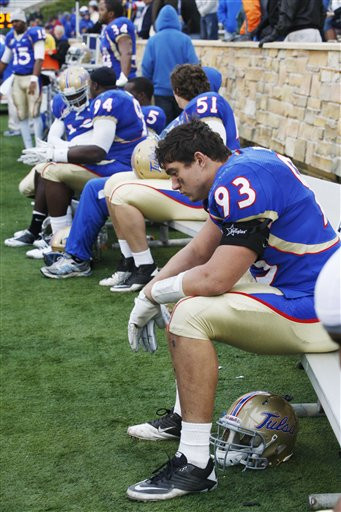 "Well, there's no question, it was interesting in our experiences over the last three or four years. When I would go out and recruit as an assistant coach, it was always rewarding when young men would say 'Coach, we loved watching you in the GMAC Bowl,' or last year in the Hawaii Bowl. It seems like we've been very fortunate that our conference has had really good notoriety when it comes to being in the public eye during the bowl season. Sometimes, you can get caught up in all the bowls. We've been very fortunate. I think Conference USA has been in a good position to get the attention of the nation and we've had great matchups that have helped us certainly in recruiting.
"I think there's also a practical advantage to bowls in that we get this additional practice time through the winter break prior to the bowl game. That preparation allows us to prepare some of the young men that are redshirting, that are not on the travel roster normally. It's almost like an additional spring practice. Teams that traditionally get into bowl games certainly get more preparation time. I think that builds on top of each other so there's a competitive advantage if you can stay in bowl games."
On if the team has momentum coming into the bowl game:
"We really have good momentum coming in to this game. We've played very well down the stretch. Certainly, we had a disappointing loss against Houston for the championship game, but we really feel good that we'll come out and play very well. The fact that we are playing in a great bowl, I think the neatest thing about that is the tie-in with our armed forces. For our players, for me personally, to have anything to do with the true heroes that are out there, that are supporting our country and representing us I think is fabulous. If you get to play a football game to celebrate those men and women, I think there couldn't be anything better to be involved in over the holidays."
On his Tulsa team:
"Well, our quarterback, G.J. Kinne, was the offensive MVP a year ago in the conference. Third year as a starter. (He) has been an all-everything guy for us. There's no doubt on offense everything starts with G.J. He has been a really balanced attack guy, dual threat quarterback. (He's an) outstanding passer but can move around in the pocket and create and see things down the field. So, he's allowed us to develop, I think, a bunch of other players. In the backfield, (we've got) two running backs that are really playing well. Trey Watts, who kind of corresponds to what BYU has, is a really good all-purpose guy, a good running back, receiver, kick returner. Defensively for us, Curnelious Arnick is our leading tackler and ranking very high nationally, number seven or number six in total tackles. He's the captain of our defense and is kind of the quarterback for us and the leader. Those two guys, the team rallies around them. We have several really outstanding players, but certainly those guys are the ones that really kind of lead this team."
On what he remembers from the game against BYU in 2007:
"That was a fabulous game because I believe we were opening up the Case facility. It was a wild shootout. There was an outstanding BYU team defensively that had some great players on it. Paul Smith had a good game. I remember Charles Clay was a freshman and caught a couple big passes. It just went back and forth, back and forth, back and forth. Fortunately for us we ended up on top in what really was a signature win for our program in the new era with Todd Graham and Gus Malzahn as the coordinator."
On his initial impressions of BYU:"(We've got a) great opponent in BYU. Just tried to look through and get a glimpse into what we're going to see. They're a tremendous team at 9-3. If you look through statistically at BYU, what they've accomplished this year, (they are an) absolutely great defense, high ranking across the board in pass defense, total defense. They're playing very well.
On offense, they are very balanced, not unlike ourselves. They don't have a lot of statistical standouts, which tells me they're very much devoted to the team concept. I think you see that pay off. Cody Hoffman is an outstanding player and kick returner. Outside of that, you don't see individuals that stand out in any statistical category, which tells me again if you look at their team accomplishments, they're doing a great job of spreading the ball around, spreading the team concept throughout.
The biggest thing is we watched their game film when we were preparing for Central Florida, and again, we saw a lot of similarities in how we approach the game. Certainly saw them get a win late in the game, much like we did. I think this is an opportunity to be a really well-matched bowl game and to have some excitement and shootouts that usually are what the fans really like to see.
On his thoughts about Bronco Mendenhall:
Coach Mendenhall has done a fabulous job. Very impressed if you look at what he's accomplished four out of the last five years, all double digit wins. Maybe 50 wins coming into this last five years. I think it says a lot about our opponent, the quality they bring to the table. I can tell you, we're very excited to see how we match up with BYU.
On BYU's quarterbacks: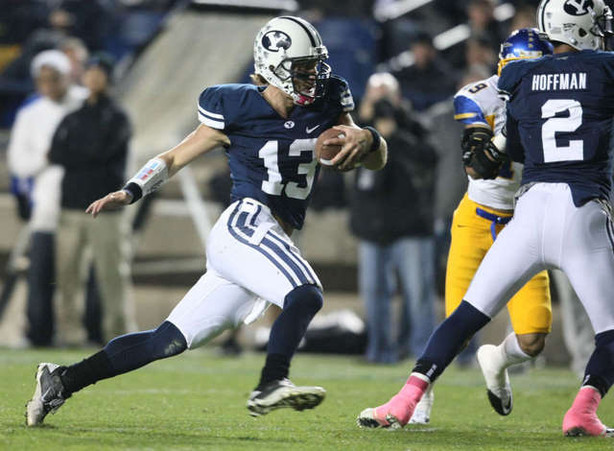 "First of all, I'll have to admit that I have not watched any film on them yet other than having gone through and kind of reviewed what we saw versus Central Florida. It's not been an unusual situation for us the last few weeks of the season to have to prepare for two quarterbacks. As we prepared for those guys, you really have to focus on taking care of Tulsa. Each quarterback typically — and I can't speak to BYU's situation — each quarterback typically has some strengths that he brings to the table. When we prepare, we're going to try to prepare to defend their offense, not a specific player. But we will also be aware of what each of their strengths are. It will be a little tougher as you get into the bowl preparation. But I will tell you that I do think we've had some experience of that probably three of the last four week of the season. We were preparing for multiple quarterbacks."
On BYU's defense:
"It will probably be the largest defensive line that we've faced. It doesn't surprise anybody that follows BYU that they would have a very mature defense — mostly juniors and seniors — and then most of those kids have been on missions, so you've got a very physically, grown-up team."
Landon Walters is a history and political science major currently studying at Salt Lake Community College. He is an avid sports fan and loves writing. He can be reached at mavericksoccer_22@hotmail.com.
×
Related Stories