This archived news story is available only for your personal, non-commercial use. Information in the story may be outdated or superseded by additional information. Reading or replaying the story in its archived form does not constitute a republication of the story.
FORT WORTH, Texas -- The BYU Cougars and the Tulsa Golden Hurricanes will meet for the eighth time in their history; The Armed Forces Bowl marking a first for post-season play.
The two teams have a history of shootouts with BYU dominating the rivalry 6-1. The average score in games played is 45-28, however the most recent being a win for Tulsa 55-47 in 2007.
The Golden Hurricanes are coached by Bill Blankenship who has been with Tulsa since 2007, with the 2011 season being his first as head coach.
Blankenship achieved an 8-4 record so far this season with all four losses coming at the hands of Top 10 teams at the time they played.
Tulsa has had a football program since 1895, and has achieved an overall program record of 560-438-27.
Cougar Tracks:
The Golden Hurricanes were former conference foes to BYU in the Western Athletic Conference, until BYU split off to the Mountain West Conference in 1999.
In 2005 Tulsa joined the Conference USA winning the conference their first year, but has yet to win another conference championship.
Tulsa has a different type of offense that we're used to seeing in years past, showing a more balanced run and pass attack.
OFFENSE
Tulsa has the 23rd ranked offense in the FBS, averaging almost 455 yards a game (250 yards through the air) and just over 34 points a game.
2010 first team all-conference senior quarterback G.J. Kinne is a mobile quarterback that likes to run up field if he sees an opening. Traditionally BYU's defense has had problems with this style of play, but for the most part this season has been able to contain mobile quarterbacks.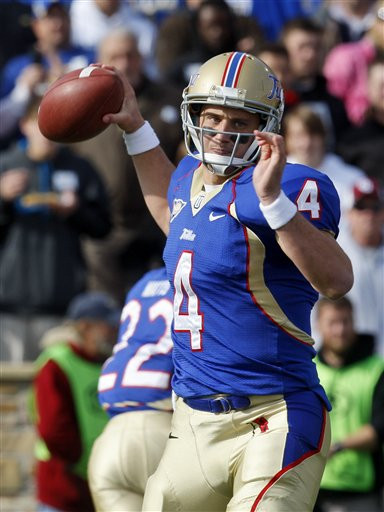 Kinne has thrown for 2,876 yards on 230/359 passes, with 405 rushing yards on 112 carries.
Along with Kinne being an effective rusher, sophomore running back Ja'Terian Douglas averages over eight yards a carry with a total of 884 yards on 108 carries and four touchdowns. Another sophomore running back Trey Watts gets the majority of the carries with 147 attempts, 843 rushing yards, and three touchdowns.
Another running back, Willie Carter leads the Golden Hurricanes in receiving with 868 yards on 61 receptions, with a total of seven touchdowns. Carter has produced over 100 yards receiving in three different games including against Oklahoma in the season opener.
Carter's cohort, junior wide receiver Bryan Burnham compliments the receiving core with 737 yards on 50 receptions and eight touchdowns.
DEFENSE
The Golden Hurricane defense is on the opposite end of its offense, ranking 89th nationally. Tulsa gives up more than 420 yards per game, almost 290 yards through the air (118th out of 120 teams).
Luckily for Tulsa the offense averages about a touchdown more than the defense gives up (27.58 points per game).
The defense is led by 2010 honorable mention senior linebacker Curnelius Arnick. Arnick has qualified in almost every stat category this season on defense with a team leading 142 tackles, 4.5 tackles for loss, 1.5 sacks, an interception, four pass breakups, and a fumble recovery.
Starting next to Arnick is another 2010 honorable mention, sophomore linebacker Shawn Jackson, who has amassed 92 tackles along with eight tackles for loss, 3.5 sacks and two interceptions, one of which was returned all the way for a touchdown.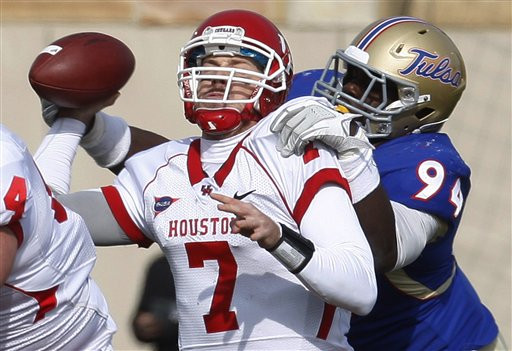 Someone that BYU quarterback Riley Nelson might become familiar with fairly quickly is senior defensive end Tyrunn Walker who has spent the majority of his season in the opponent's backfield. Walker has 12.5 tackles for loss, eight of which are sacks. Along with those astonishing numbers, Walker has five quarterback hurries, and two forced fumbles.
Tulsa's passing defense has been notable during the season as well.
Junior defensive back Dexter McCoil has four interceptions on the year, with one returned for a touchdown. Along with McCoil, senior defensive back Milton Howell has four interceptions of his own and two forced fumbles.
The Golden Hurricanes will definitely be a test for the Cougars. BYU has been on a hot streak in recent games, but has yet to win against a highly formidable opponent.
The same can be said for Tulsa which has had major success against average teams, and lost by big margins to top ranked teams.
It's safe to say that the Armed Forces Bowl will be a crowd-pleaser, especially given the history between the two high scoring teams.
The excitement is set to begin at 10 a.m. Friday, Dec. 30.
×
Related Stories