Estimated read time: 2-3 minutes
This archived news story is available only for your personal, non-commercial use. Information in the story may be outdated or superseded by additional information. Reading or replaying the story in its archived form does not constitute a republication of the story.
OGDEN — A thief is targeting climbing stores for some high-end equipment, but now owners of an Ogden store are fighting back with the power of Facebook.
Police believe the same guy has hit several stores across the Wasatch Front. But the owners of The Front Climbing Club say their Facebook post has gone viral and is helping police close in.
"This guy definitely is unsettling for the community," said Shayne Bryson, a climbing enthusiast who works at the climbing club.
"(The thief) kind of hung out in the background and waited for things to get busy," said manager Shad Burnham.
Burnham said the man would ask employees about ice climbing gear. "Very specific, very technical stuff," he said.
Surveillance video caught the man grabbing a few items. He appears to put some in his pocket, and then walks out the door. Burnham said he came back the next day — this time with a duffel bag.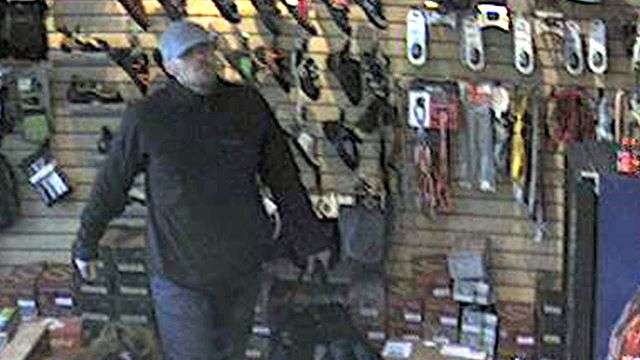 "From the footage, it looked like he meant business this time," Burhham said.
Video shows the man walking around for a while and opening the bag, but Burnham said he got spooked and left. Then, about two weeks later, there was a break-in.
"Every piece of ice climbing equipment that that guy handled was taken," Burnham said.
Club owners went to police, and Burnham also posted the man's picture on his Facebook page. "We've been able to alert a huge amount of climbers in about a day's time," Burnham said.
The post was shared more than 50 times and has already generated several tips. Climbers like Bryson just hope it will help put the guy behind bars.
"We don't want this guy to give us a bad rap, going around stealing climbing gear. That's not what climbers do," Bryson said.
Employees The Front Climbing Club say ice climbing it's a very specialized sport, with only about 50 such climbers in the Ogden area. They believe the same guy has stolen similar gear worth thousands of dollars, from stores in Salt Lake and Orem.
If you have any information about the man in question, contact the Ogden Police Department 801-395-8221.
Email: manderson@ksl.com
×
Photos
Related links
Most recent Utah stories