This archived news story is available only for your personal, non-commercial use. Information in the story may be outdated or superseded by additional information. Reading or replaying the story in its archived form does not constitute a republication of the story.
SALT LAKE CITY — There are so many storylines to look for as the Utes enter their new "rivalry" week, but most of them are off the field. Colorado comes to Salt Lake City on Friday for the "Rumble in the Rockies."
Kickoff is set for 1:30 p.m. with the Utes ever so close to an appearance in the inaugural Pac-12 Conference Championship Game. Here are five storylines to look forward to as the Utes close out the regular season against the Buffs.
1. John White's rushing record. Ute junior running back John White is 131 yards away from becoming Utah's single-season rushing record holder. White would pass Carl Monroe, who set the record in 1982 with 1,507 yards. That may push White onto the all- conference first team.
If he gets there, this may be the single-greatest individual performance in Utah football history. Colorado has the worst rushing defense in the conference, giving up 191.83 yards a game, which bodes well for White and the Utes. The coaches are aware of how close White is to the record, but don't expect them to change the game plan. They won't need to, however, because White is the game plan.
2. A win away from the unthinkable. If the Utes can take care of business, they will likely gather to watch the Cal-Arizona State game Friday night. If Cal can pull the upset at Arizona State, the Utes will wait for what seems like an inevitable USC win over UCLA on Saturday to make a Ute appearance in the inaugural Pac-12 Championship Game official. Ted Miller of ESPN is predicting just such a weekend. A month ago, no one could have imagined this scenario.
3. A forced rivalry? The Pac-12 would love for the Utes and the Buffs to brew up some hate on Friday, but it may take a while before this rivalry heats up. Colorado- Utah used to be a pretty big rivalry, but the last time it was played was in 1962. These two teams played every season but four between 1903 and 1962.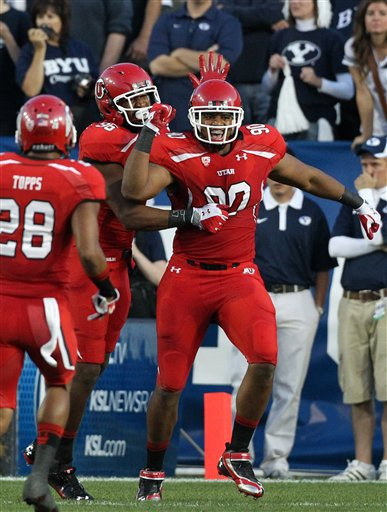 The first thing that must happen for this rivalry to become a rivalry would be for Colorado to become relevant again in some way. Right now Colorado is struggling to say the least. The Buffaloes sit at 2-10 with one Pac-12 win and they haven't won a game outside Colorado since 2007.
4. Senior day. Friday will be the final home game for 18 Utah seniors. Those seniors have a chance to go out on an historic note, and not just because of their team's potential shot at an appearance in the conference championship game. A Ute victory on Friday would mean 41 total wins for this year's senior class. That would tie last year's senior class for the school record.
The seniors will be honored in a pregame ceremony. Notable seniors on this year's team include linebacker Matt Martinez, fullback Shawn Asiata, wide receiver Dexter Ransom, offensive lineman Tony Bergstrom, defensive back Greg Bird, defensive end Derrick Shelby, defensive back Conroy Black, offensive lineman John Cullen, running back Tauni Vakapuna, defensive lineman Nai Fotu, defensive back Tyler Whittingham and linebacker J.J. Williams.
5. Match-up to watch: Utah defensive line vs. Colorado offensive line. Colorado has allowed 30 sacks on the season, second most in the Pac-12. Utah has recorded 28 sacks on the season, good for fourth in the conference. Look for Derrick Shelby and Co. to pin their ears back and go after Buffalo quarterback Tyler Hansen. Hansen has shown flashes at points during the season, but has been under constant pressure. Don't expect anything different on Friday.
Trevor Amicone is the sports director at 88.1 Weber FM "Ogden's Radio Station" and host of the sports talk radio show, "Fully Loaded Sports with Trevor Amicone". Find more of his blogs at TrevorsTopTens.com. Follow him on Twitter at @TrevorAmicone
×
Related Stories