Estimated read time: 2-3 minutes
This archived news story is available only for your personal, non-commercial use. Information in the story may be outdated or superseded by additional information. Reading or replaying the story in its archived form does not constitute a republication of the story.
Sandra Yi and Marc Giauque ReportingWork on a new fire station sparked a wildfire in Emigration Canyon this morning. Workers sawing rebar at the construction site sent sparks flying into the dry brush.
It started about 10 a.m., several miles up Emigration Canyon. Ironically, the fire started at the construction site of the new firehouse. The fire has burned 25 acres, and it is now 30 percent contained.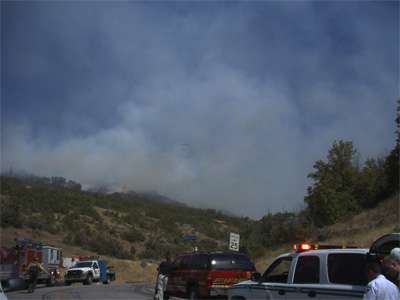 The terrain is pretty steep and the brush very dry. Firefighters worked quickly to keep the fire from growing out of control.
Jay Fearnley, Unified Fire Authority, said, "So the access is always difficult in Emigration Canyon. A high fire load is always a potential problem, so we'd like to get a lot of resources up here quickly so that we can deal with the fire before it gets out of control."
Homeowner Joseph Virde said, "I saw it as it first started and the construction guys were trying to put it out, but then it took off, and we thought they had it knocked down a couple of times, but it just kept getting bigger and bigger."
Virde shot home video as the fire crept closer to his home; it came less than 200 yards away. He and 15 other home owners in the Old Oak area were under a voluntary evacuation order, but he decided to stay because he says firefighters seemed to be getting a good handle on it.
People who live there know the risk of wildfires and do what they can to prevent them.
Virde said, "I had the fire crews come up last year and clear out all my underbrush from the oaks on the backside of my house, and I think that would help a lot."
Fearnley said, "If the home owner's going to take precautions and be educated about how to reduce the risk to their home, that reduces the risk of fire spread to everybody's else house, so it helps all people involved."
Firefighters from several agencies battled the fire on the ground and in the air. Winds are calm so there have not been a lot of flare-ups.
Firefighters say crews working on a construction of the new firehouse were grinding rebar when a spark ignited the dry brush. Homeowners say they're eager to see that new firehouse up and running next year.
Virde said, "My biggest concern is people being careless with cigarettes. It seems to be most of our fires start at the roadside and come up the hills. And with the right conditions and the right wind, we're all in danger up here."
The new fire station will be up and running next spring.
The homeowners who evacuated were allowed to return to their home at 6 p.m.
×
Photos
Related links
Most recent Utah stories