Estimated read time: 2-3 minutes
This archived news story is available only for your personal, non-commercial use. Information in the story may be outdated or superseded by additional information. Reading or replaying the story in its archived form does not constitute a republication of the story.
Carole Mikita ReportingPresident Gordon B. Hinckley of The Church of Jesus Christ of Latter-day Saints has a big decision to make. With the passing of his counselor and dear friend, James E. Faust, he must chose a new member of the Church's First Presidency.
This is President Hinckley's choice. Latter-day Saints believe he has and will receive inspiration from God for the name of another man who will sit by his side.
During his first news conference as president, Gordon B. Hinckley told reporters he and other leaders depend on inspiration from God to lead their church.
Latter-day Saints believe that's how he will chose another counselor with the death of President Faust. When will that happen?
Richard Holzapfel, Ph.D., a professor of church history at Brigham Young University, says, "When he's ready and feels inspired to do so, he will name the counselor."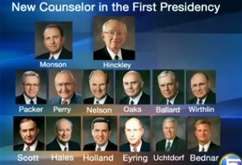 Where will the new counselor come from? President Hinckley may choose from among his closest work associates, members of the Quorum of the Twelve Apostles, as presidents have done often in the past.
Acting President Boyd K. Packer is the most senior, then Elder L. Tom Perry. It could be either of them or any of the others.
He could select a new counselor from another group, the seven presidents of the Quorum of the Seventy. They have traveled and lived throughout the United States and around the world, holding various church positions and advising members of the Quorums of the Seventy, who are stationed around the country and the world.
But the president could name any adult, male Latter-day Saint.
"He's going to obviously look for somebody that he feels can carry this burden, because it's going to be a significant burder to fill the place of a man like President Faust. People do look for people that they like, and so it wouldn't surprise me if it was somebody that he's had vast experience with, who he feels could really help out," Holzapfel said.
Professor Holzapfel says since President Hinckley was himself a counselor to three church presidents, he understands the position's responsibilities and the needs of the faith.
"He realizes maybe more than anybody in my generation the complexity of the issues that face the church, cultural issues, political issues, economic issues," Holzapfel said.
The announcement about a new member of the First Presidency could come at any time, or President Hinckley may wait until his church's general conference the first weekend in October.
×
Most recent Utah stories