Estimated read time: 4-5 minutes
This archived news story is available only for your personal, non-commercial use. Information in the story may be outdated or superseded by additional information. Reading or replaying the story in its archived form does not constitute a republication of the story.
**VIDEO: 1:00 Press Conference ...Click Here to Watch**John Hollenhorst Reporting
A nine-inch drill goes more than 1,800 feet into the ground and punches through the roof of a Central Utah coal mine where six miners are believed to be trapped.
"From that distance down for five-and-a-half feet there is a void, and that's good," said Richard Stickler, of the Mine Safety and Health Administration.
But repeated attempts to tap a message to the miners came up empty.
Geologist Mike Glasson said, "Of course we were very hopeful and frankly disappointed that we did not have a response."
They're disappointed but still undaunted. In fact, there's a new twist tonight in the effort to find those six trapped Utah miners. The Federal government has delivered two rescue capsules, capable of extracting men by cable from deep underground.
The fact they're even considering a capsule rescue shows just how few decent options they have. Although capsules have been used successfully elsewhere, it would be extraordinarily difficult here. And it could take weeks.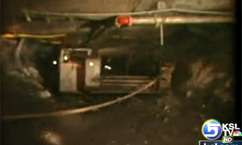 The best hope for reaching the miners is still this one: fellow miners risking their lives by mining through a tunnel choked with fallen coal. But that effort is slowing down because of the difficult, dangerous conditions. As of 1:00 this afternoon, the horizontal rescue operation had progressed another 520 feet.
A drill rig is still offering hope of locating the men and perhaps lowering food and water. But a high-tech video camera and light lowered into the hole failed in its first attempt to provide images. And the trapped miners did not respond to loud banging and loudspeaker announcements.
Glasson said, "We will continue to do this on these drill holes and continue to hope for responses."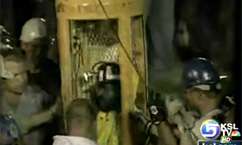 Now the federal government has delivered two capsules to Utah. In 2002 a capsule rescue saved the lives of nine miners trapped in a Pennsylvania coal mine. Could the capsules be used in Utah? It would require a much larger hole than the two drilled so far.
"We have not ruled that out," Stickler said. "But to get a drill rig in the mountain it's going to take a bigger drill rig and could take 19 to 20 days if things go good, because we're so deep here."
The Pennsylvania rescue was less than 300 feet deep. In Utah it's almost 2,000 feet and in vastly more rugged and inaccessible terrain.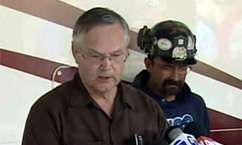 Still, the option apparently remains on the table, as dozens of people risk their lives daily to find six others.
This afternoon we were told there would be a second attempt to get the bore hole camera down to get some decent images from the mine cavity. We were told to expect a news briefing, but as of 10 p.m. there's been no sign of a press briefing yet or any further word on that.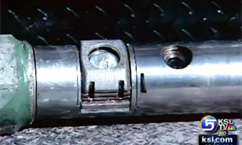 Around 3 a.m. Saturday that nearly-9-inch drill bored into the area where the miners were working when the mine collapsed. Rescuers banged on the drill steel to signal the miners, but there was no response.
Then the high-tech camera went down the drill hole, but its main horizontal lens was fogged up by drilling fluid.
A vertical lens provided one slim piece of promising news, that the roof of the mine had not collapsed. There was a void 5-and-a-half feet high. Stickler called that a "survivable space."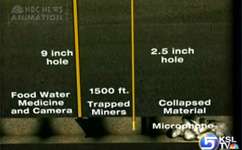 But is it survivable? Air sampling from the first drill hole showed oxygen levels so low, no one could be alive in that space. The second drill hole entered the mine just 130 feet away. If it pierced the same open space, the hope of finding surviving miners in that area would be near zero. The smaller hole was being used to pump oxygen into the void Saturday.
The six men trapped underground come from a variety of backgrounds and experience levels.
Kerry Allred is a 58 year old native of Cleveland, Utah. He's worked in the mines almost a quarter of a century.
Luis Hernandez, 23 is from Sinaloa, Mexico. He has a one year old daughter.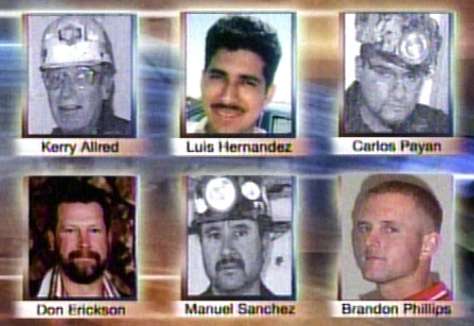 Carlos Payan is 22. He came to the U.S. from Sinaloa with his cousin Luis Hernandez. Hernandez and Payan started working at the mine earlier this summer.
Don Erickson is a 50 year old Helper resident. He worked at Helper Auto Sales before taking a job in mining to get better benefits.
Manual Sanchez is from Price. He's 41, the father of four and a grandfather.
And Brandon Phillips is the rookie on this Crandall Canyon Mine team. He's 24 years old and just started this job three weeks ago.
(The Associated Press contributed to this report)
×
Related links
Most recent Utah stories