This archived news story is available only for your personal, non-commercial use. Information in the story may be outdated or superseded by additional information. Reading or replaying the story in its archived form does not constitute a republication of the story.
MOUNT OLYMPUS — A daring rescue took place to reach a mountain climber who fell from a cliff on Mount Olympus Thursday.
The man, identified as 51-year-old Fred Henion, was rescued by specialized crews several hours after falling and was being transported by helicopter to Intermountain Medical Center.
Henion, who was climbing with two friends, suffered serious head, neck and back injuries, according to Unified Police Lt. John Barker.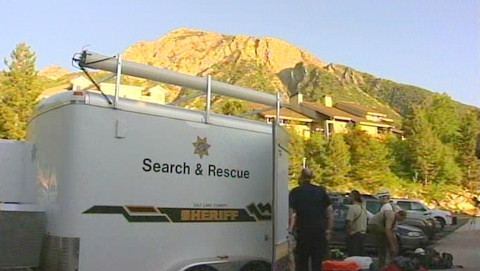 The trio hiked up the mountain to take advantage of the late-season snow and had planned to ski down. One of the friends said it was slick, so he decided to turn around. As he was on his way down, Henion slipped and fell.
"It's like a block of ice," said Mark Lengel, one of the hikers.
One of the hikers was able to wrap Henion in an emergency blanket and stabilize him until rescuers could reach him.
Two search and rescue team members and a paramedic were lowered by helicopter to Henion's location, where he was accompanied by one of his climbing companions. The other had earlier climbed down the mountain to summon rescuers.
Henion is an experienced climber and hikes the area often, the friend told KSL. Henion had warm clothes and a first aid kit, but the conditions on the mountain proved to be dangerous even for his expertise.
Barker said Henion was climbing above the tree line with two friends when he fell about 15 feet, striking his head.
The three climbers were reportedly climbing to ski down a snowfield, and Henion fell in an area that is "really a rock face," Barker said. Reportedly, they were climbing up a steep mountain chute known as a "couloir."
The three rescuers could not be airlifted out of the area, Barker said, and around two hours later they were still hiking down the mountain in the dark. Earlier, another rescue team had also been sent up the mountain on foot.
"It's just one of those unfortunate accidents," Barker added. "It's a very inaccessible area."
---
Story written with contributions from Ladd Brubaker and Sandra Yi.
×