This archived news story is available only for your personal, non-commercial use. Information in the story may be outdated or superseded by additional information. Reading or replaying the story in its archived form does not constitute a republication of the story.
SALT LAKE CITY — A new effort has been launched to help returning military veterans find jobs.
Numerous military, civic and business leaders signed an agreement to pledge their collective efforts to find jobs for those who have served their country. While there are already some programs available nationally, this effort focuses on Utah's returning servicemen and women, according to Ret. Col. Bart Davis, state chairman of Employer Support of the Guard and Reserve.
---
Utah's young veterans between the ages of 18 and 24 have twice the jobless rate of the national average
---
"There's plenty of organizations that are trying to help veterans," Davis said during a ceremony Thursday in the state Capitol rotunda. "The problem is there hasn't been a coordinated effort."
The Utah Veterans and Military Employment Coalition will serve as principal coordination point of contact for employment events and opportunities for veterans, reservists and their spouses.
Davis said if more employers will take the time to feed their job opportunities into a central repository, more veterans will have a chance at finding them and improve their prospects for finding long-term career employment.
He said the coalition will also offer training that will get veterans ready to present themselves to potential civilian employers.
Nationwide, there are an estimated 1 million veterans looking for post-military employment, including 5,000 in Utah.
"It's hard, but they come back with a lot of skills and there are a lot of vacancies represented by employers (in Utah)," he said. "We simply need to break the code on how to get these well-trained and knowledgeable young men and women into the recruiters of those employers."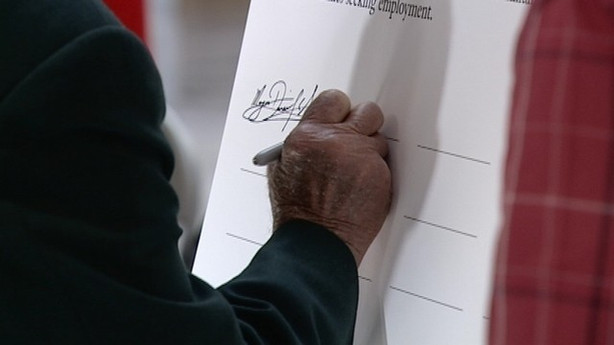 According to the Utah Department of Veterans Affairs, young veterans between the ages of 18 and 24 have twice the jobless rate of the national average. Executive director Terry Schow said the coalition's combined efforts should go a long way toward addressing that issue.
"We're trying to make (the effort) bigger, stronger (and) more robust," Schow said. With jobs available throughout the state, it is incumbent upon those hiring to make those positions known to returning military members, especially considering the sacrifices those veterans and their families have made, he said.
"They've paid their dues and it's our turn to step up and help them," Schow said.
Email:jlee@ksl.com
×
Photos
Related Links
Related Stories