Estimated read time: 2-3 minutes
This archived news story is available only for your personal, non-commercial use. Information in the story may be outdated or superseded by additional information. Reading or replaying the story in its archived form does not constitute a republication of the story.
HOWELL -- The Golden Spike National Historic Site is a great place for history buffs or anyone who loves trains.
Golden Spike is where the transcontinental railroad came together for the first time. It changed the way the west was settled.
Tammy Benson, chief of operations at the site said, "This is the first time in U.S. history that people could go from the east coast to the west coast. Before that, it took six months or so to get from Nebraska to California by wagon train."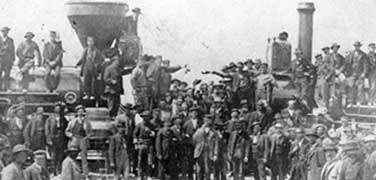 The Union and Central Pacific railroads' trains met at Utah's Promontory Summit in May 1869, where the last four spikes were driven into the railroad.
When you visit Golden Spike, located 32 miles west of Brigham City via Hwy. 83, you can check out the site where that ceremony took place. During the summer steam locomotives chug to that exact spot.
On Saturdays volunteers stage a reenactment.
"They reenact the whole ceremony," Benson said. "So it's a good time to come out and learn more about history and actually see some history in play."
The ornate locomotives are a highlight for many visitors. The Jupiter and the 119 are almost exact replicas of the originals.
Gretchen Nelson, who visited the site, said, "Our 3-year-old really enjoyed seeing that, and being able to learn the difference between the two and how they were created."
Even today, the locomotives are polished by engineers, just as they were in the 1800s.
Schedule
Locomotives run daily starting May 1.
10 a.m. and 10:30 a.m. -- Arrivals of the Jupiter and 119
1 p.m. - Steam demonstrations of both locomotives
4 p.m. and 4:30 p.m. - Departures of the 119 and Jupiter
Throughout the summer season, the Jupiter and 119 receive scheduled boiler washes on the first and last Tuesdays of each month. This scheduled maintenance prevents one of the locomotives from being available for public viewing throughout that day and part of the following Wednesday. (Schedule subject to change) For more information, including entrance fees, click here.
×
Related links
Most recent News stories