Estimated read time: 2-3 minutes
This archived news story is available only for your personal, non-commercial use. Information in the story may be outdated or superseded by additional information. Reading or replaying the story in its archived form does not constitute a republication of the story.
John Hollenhorst ReportingFor the first time in its history, the TRAX light-rail system appears to be undergoing a significant decline in ridership. But is it a real decline, a result of inaccurate counting, or a combination of the two?
By most measures, TRAX is a success story, but how accurate are those measures? And what's up with the recent downturn?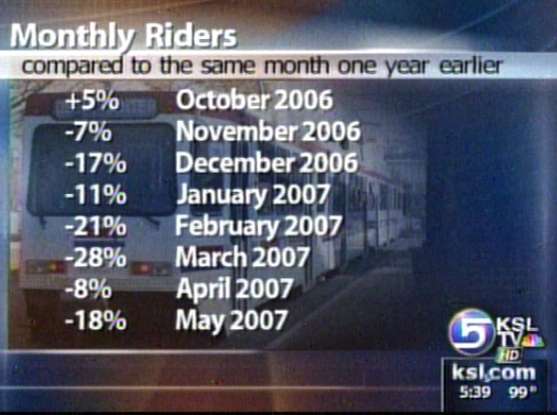 From day one in 1999, riders have flocked to TRAX.
Jerry Benson, Chief Operating Officer of U.T.A., says, "We've seen ridership that beat projections, and that has grown steadily over time."
It was a clear trend until a recent turnaround. Benson says the ridership numbers, compared to last year, are down.
We used U.T.A. data to compare each recent month to the same month a year before. It shows falloffs ranging from 7 to 28 percent. Jerry Benson says much of the drop is because ridership is easing off after an unprecedented high the year before, when many commuters left their cars in the garage. "We were experiencing a big spike in ridership last year, related to fuel prices."
A national expert on transit ridership questioned that explanation. Thomas Rubin says, "I would find that to be contrary to the national experience. Nationally we have not seen a drop-off. A variance this large is extremely unusual. The numbers are strange."
U.T.A. says some of the drop-off may be due to downtown construction, but they acknowledge part of it may be the February switchover to a new counting system. An automated electric-eye uses heat to count every passenger.
Kyle Brimley, with the U.T.A. Technology Office, says, "Your body conducts heat, and we sense the heat so that a piece of luggage will not be counted."
The automated system replaces the old, manual method of estimating based on selective sampling.
U.T.A. spokesperson Chad Saley tells us, "We physically had people coming out on the trains and counting individuals. We used kind of a random sampling method."
A long-time critic says U.T.A. data has always been suspect. Michael Packard accuses TRAX supporters of continuing to cite outdated high numbers. He wants counting by an independent entity.
"There's too much trust placed in U.T.A., there's too much leeway for them to be able to define their own data. They're too much in control of it. That's not good enough when we're betting $15-16 billion on transit," Packard said.
Benson says, "I think that the automated counting system will be more accurate than the manual counting, but I have no reason to think that we had a systematic overstatement or understatement of the count."
U.T.A.'s Jerry Benson says it's outrageous to suggest they would knowingly use bad data. The manual counting method is used by most transit systems, and all parties agree it's quite accurate if done correctly. Besides, the downward slide started before they changed counting systems.
×
Most recent Utah stories