This archived news story is available only for your personal, non-commercial use. Information in the story may be outdated or superseded by additional information. Reading or replaying the story in its archived form does not constitute a republication of the story.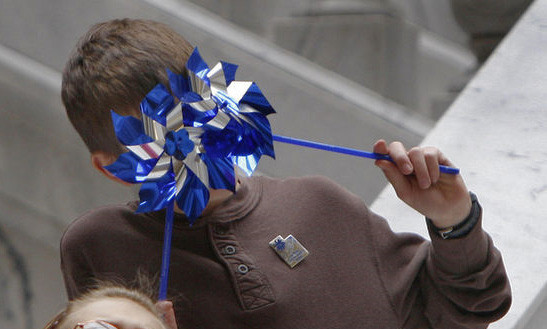 SALT LAKE CITY — In the coming days, Utah will be "blooming" with gardens of pinwheels.
While most people think of a pinwheel as a beloved childhood toy, the colorful gardens are being planted to focus attention on a grave issue, child abuse. The Beehive State, according to Prevent Child Abuse Utah, has one of the highest rates of child abuse in the nation.
A coalition of government and nonprofit agencies want to change that distinction. On Monday afternoon, a pinwheel garden was planted on the grounds of the state Capitol as a kickoff to National Child Abuse Prevention Month. Some 25,000 pinwheels will be "planted" in gardens throughout the state by public safety agencies, child advocates, domestic violence agencies and other nonprofit organizations.
Events
The Children's Justice Center of Salt Lake County is hosting other events in April to raise awareness and to generate funds, including:
Sounds for Hope Concert
Libby Gardner Hall, U of U
Saturday, April 9
7 p.m.
$25
Cops for Kids fundraiser
Officers wait tables and donate the tips
Participating Sizzler restaurants
Tuesday, April 19
4-9 p.m.
More info and events: www.cjcslc.org
Several other events will take place in April to draw attention to the issue and agencies and individuals that can assist with prevention.
"We are the first line of prevention just as adults," said Ann Freimuth, executive director of Prevent Child Abuse Utah.
Lt. Gov. Greg Bell, who read a proclamation declaring April as Child Abuse Prevention Month, said the abuse some children suffer is "unthinkable." Even short-term incidents of abuse can have lifelong consequences, he said.
"Each of us has a responsibility to eliminate this terrible evil from society," Bell said.
Charri Brummer, deputy director of the Division of Child and Family Services, said collaboration between public and private agencies is the key to preventing child abuse and neglect.
The division provides funding from federal and state sources to a variety of agencies that offer prevention services. Some 25,000 Utahns were served by those agencies in 2010.
For more information about child abuse and this month's events, visit: http://preventchildabuseutah.org.
Email:mcortez@ksl.com
×