Estimated read time: 2-3 minutes
This archived news story is available only for your personal, non-commercial use. Information in the story may be outdated or superseded by additional information. Reading or replaying the story in its archived form does not constitute a republication of the story.
Keith McCord ReportingWhen paramedics are called to a scene of an accident or fire, their first priority is to take care of anyone who's injured. That happened last night at a trailer park on North Temple, but one of the victims was a different kind of patient.
Different, as in a dog! A man's pet was trapped inside of a burning trailer. Firefighters went inside, found the dog and brought him outside. He was barely alive.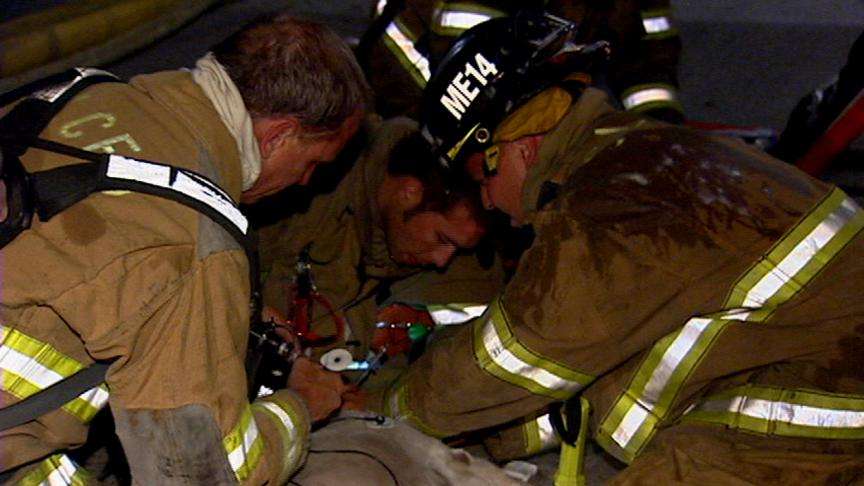 The noise, the flashing lights, the stern faces of paramedics. Another emergency response team treating victims of a late-night fire.
Scott Rhodes, a construction worker, sits with an oxygen mask on. He has minor burns. Next to him, several paramedics work on his dog Cisco.
Dennis McKone, Assistant to the Fire Chief of the Salt Lake City Fire Department, said, "As you can see, what this group is trying to do right now is save this dog's life."
The 10-year-old Shepherd mix struggles to breathe. He was inside a burning and smoke-filled trailer for about five minutes before firefighters got to him.
"We had an indication when we first came in that there was a gentleman in one of the trailers [who] said his dog was unaccounted for. The gentleman got out safely. They did locate his dog," McKone said.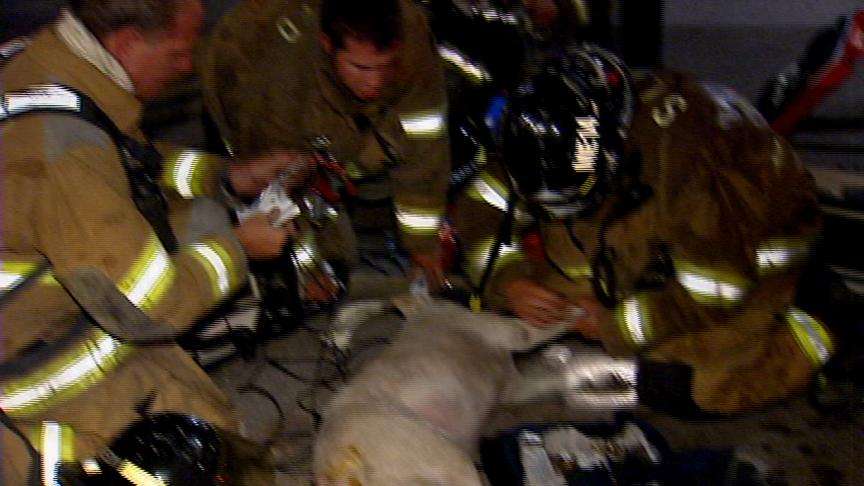 As they would do with any smoke victim, paramedics checked the dog's vital signs, hooked him up to monitors, brought in oxygen and gave him fluids through an I.V.
It was about 11:30 last night when a trailer at the Chateau Motel and Trailer Court, 1999 W. North Temple, caught fire. It spread to Scott's trailer next door, and the flames moved quickly.
With the front door blocked by fire, Rhodes and the dog ran to the back bedroom. Scott went through the window and called for Cisco, but the dog was too scared to follow.
Paramedics worked continuously on the dog for about 30 minutes. When he was stable, they carried him to a vehicle and took him to a vet clinic.
"It's a life," McKone explained, "whether it's an animal or a human. Firefighters are trained to save life and property."
We checked with Central Valley Vet Hospital. Cisco is still there in stable condition. He may stay there for a few more days. His owner didn't want to go on camera with us today. He's pretty upset, not just about his dog, but he also lost everything in the fire. Still, he wanted us to recognize the paramedics for their hard work. Without their help, the dog wouldn't have made it.
×
Most recent Utah stories