Estimated read time: 2-3 minutes
This archived news story is available only for your personal, non-commercial use. Information in the story may be outdated or superseded by additional information. Reading or replaying the story in its archived form does not constitute a republication of the story.
Coco Warner reportingEven though the really bad weather hasn't hit us yet, Utah motorists need to start thinking about becoming better winter drivers.
There are certain techniques you can use in case you find yourself sliding off the road.
We can learn certain driving skills that will help us if we get in trouble, like pumping our brakes or steering into a skid. But your best bet is to avoid that trouble to begin with, by becoming a more cautious driver.
Sgt. Gary Caldwell/ Utah Highway Patrol: "The worst thing you can do is slam onto your brakes, especially if you're sideways, because it throws all the weight of the vehicle onto one tire."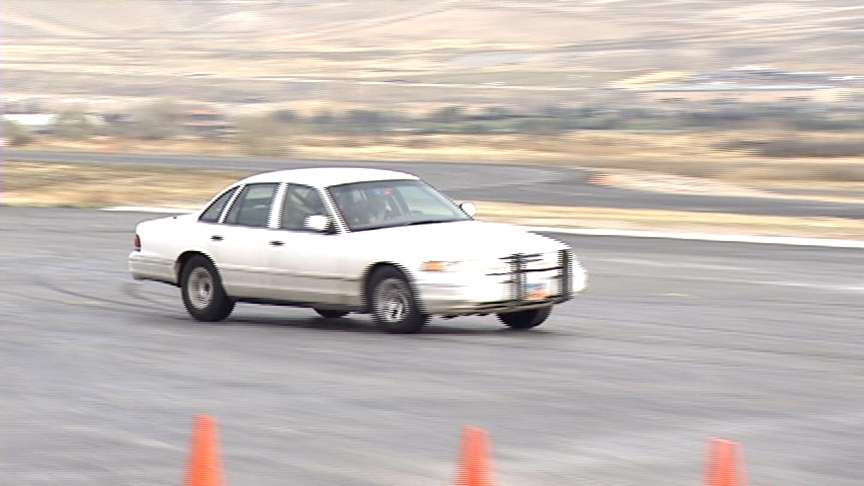 It's a scary feeling, and a lot more common once we start driving on slick roads, the feeling of being out of control behind the wheel.
Sgt. Gary Caldwell/U.H.P.: "Once the vehicle locks up, the tires lock up. You no longer have control of that car."
So if you do hit a patch of ice and find yourself in a spin, the Utah Highway Patrol says there are things you can do.
Sgt. Gary Caldwell/U.H.P.: "The only way to save yourself if your car starts to hydroplane is simply let off the gas slowly, let the vehicle slow down on its own."
Sgt. Caldwell also says to steer into the skid and look exactly where you want the car to end up. If you have ABS brakes, brake slowly. If not, pump your brakes for traction.
But the best advice-- do all the things you need to do to avoid the accident in the first place.
Sgt. Gary Caldwell/U.H.P.: "Following distances should increase by at least double what they normally are. Speed should be reduced. People need to keep their eyes up, look farther down the road, make sure to watch for taillights."
And check your tires' tread and pressure.
Sgt. Gary Caldwell/U.H.P.: "Really, it's being more alert during the winter time, because there are slick spots, there's black ice, slushy snow."
Thanks to the Utah Highway Patrol for letting us use their drving range.
So here's your winter driving checklist:
Check your tires - that includes the tread and the pressure.
Increase your following distance.
Slow down.
Keep your eyes up.
If you do get into trouble...
Steer INTO the skid
With ABS brakes-- brake easy.
Without, pump your brakes.
Coming up tomorrow-- holiday stress. We all have it, so how should we handle it?
×
Related links
Most recent News stories