Estimated read time: 2-3 minutes
This archived news story is available only for your personal, non-commercial use. Information in the story may be outdated or superseded by additional information. Reading or replaying the story in its archived form does not constitute a republication of the story.
Jed Boal Reporting More than three in 10 Utah murders stem from domestic violence. A new Department of Health report details deadly consequences of abuse and makes recommendations to deal with the problem.
Solutions are hard to find. This report, Domestic Violence Fatalities in Utah, studied all domestic violence homicides from 2000 to 2002. It found abuse accounted for one death every 21 days. It also found victims need more help before a situation turns deadly.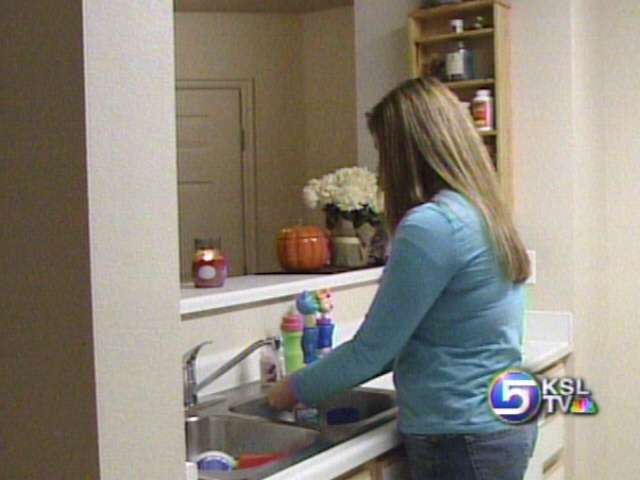 Sarrah Dolton is cleaning up to clear out.
Sarrah Dolton, Stalking Victim: "He tried to break down my door."
In effect, a stalker has chased her out of her apartment.
Sarrah Dolton, Stalking Victim: "I'm constantly looking where I'm going because he's constantly around. So I never know when he's going to try something besides following me."
Dolton met the man after she moved to the area with her two young children. She thought they were good friends, he wanted more.
He showed up at her apartment, drunk and belligerent three nights in a row in August. Police arrested him and held him in jail 40 days on outstanding warrants.
Sarrah Dolton: "He called me collect every day from jail. When he got out, he was really mad. And that's when it started getting worse."
Dolton wanted to change units in her apartment complex. Management told her they would help, then told her it would cost her $3000 in fees. Ultimately she was evicted. Dolton has done what she can within the limits of the law; the police help, she's working on a stalking injunction. She cannot get a restraining order because they weren't married.
Sarrah Dolton: "I have to provide documents, a paper trail of everything. It's taking a long time so right now I'm not protected against him."
Ned Searle, Governor's office on Violence against Women: "It's time to talk about something that matters in our neighborhoods and behind the walls of our homes."
The report says we need stronger public education that focuses on helping victims of domestic violence.
Ned Searle: "I think the thing that has changed the most for victims of domestic violence is the intensity and frequency."
In the future, there could be restraining orders to protect people like Sarrah Dolton who are not married to their abusers and do not live with them.
×
Related links
Most recent Utah stories