Estimated read time: 2-3 minutes
This archived news story is available only for your personal, non-commercial use. Information in the story may be outdated or superseded by additional information. Reading or replaying the story in its archived form does not constitute a republication of the story.
Ed Yeates ReportingA good Samaritan donor willing to give up a kidney to anyone in need was quite surprised when he found out who was getting it. Both donor and recipient are recovering tonight at two different Salt Lake hospitals.
People get kidney transplants every day, and some come from living Good Samaritans who donate their organs to strangers. That was the case with 28-year-old Aaron Coltrin who wanted his to go to anybody who needed it, but when he found out it was a 2-year-old, what a surprise.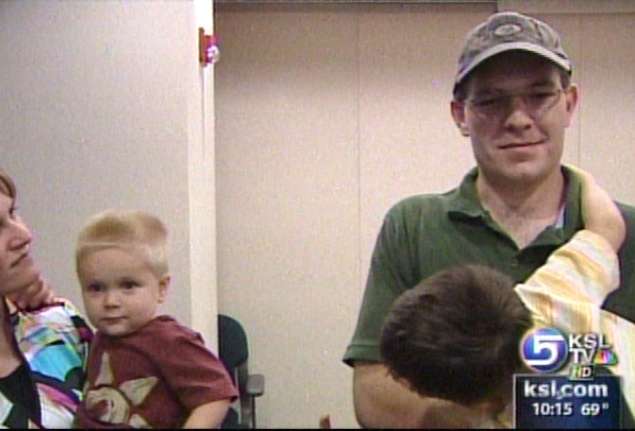 In an emotional meeting between the Coltrin and Robinson families there were tears and laughter.
Matt Robinson is the toddler's dad. He said, "I mean, he's giving a part of his life to save the life of our child."
Aaron Coltrin says, "Seeing a little kid, having kids of your own, it's really cool."
Brick Robinson was born with one defective kidney, which is now failing. His mom, Krista said, "It's just very overwhelming to know that there are people out there that can care for a perfect stranger."
For final blood tests prior to the transplant, Aaron looked across his bay to the little guy who would soon have his kidney. There were high fives between donor and recipient and the kids from both families.
Aaron's wife admits apprehension, at first. "I had all those questions of what if you need one later in life. And like Aaron and I talked about, life is full of 'what-ifs,'" she says.
It's done now. Both are doing well at Primary Children's and the University Medical Center. The bond between the two families is solidified.
"This makes it complete. If we couldn't meet there would probably be a void. There would probably be something missing," Matt Robinson said.
Aaron said, "This guy gets to grow up and you know, I guess, he gets part of me."
The Robinsons and Coltrins say love between the two families will last forever!
The company Aaron works for is giving him six to eight weeks paid time off so he can recover from donating his kidney.
×
Related links
Most recent Utah stories