Estimated read time: 2-3 minutes
This archived news story is available only for your personal, non-commercial use. Information in the story may be outdated or superseded by additional information. Reading or replaying the story in its archived form does not constitute a republication of the story.
By PETE YOST
Associated Press Writer
WASHINGTON (AP) -- Vice President Dick Cheney's former chief of staff pleaded not guilty Thursday in the CIA leak scandal, marking the start of what could be a long road to a trial in which Cheney and other top Bush administration officials could be summoned to testify.
Libby entered the plea in front of U.S. District Judge Reggie Walton, a former prosecutor who has spent two decades as a judge in the nation's capital.
Once the charges were read and the judge asked for his response, Libby said: "With respect, your honor, I plead not guilty."
Libby, who is recovering from a foot injury, leaned his crutches against a podium from which lawyers normally question witnesses or address the court. He stood with his recently expanded legal team at the table reserved for the defense during trials as the charges were read. A short time later, they left the courtroom.
Cheney's top aide signaled his determination to fight the charges after Friday's grand jury indictment, which has provided more fuel to the political debate over the White House's possible misuse of prewar intelligence on Iraq. Libby bolstered his defense team this week with two well-known criminal trial lawyers, Ted Wells and William Jeffress.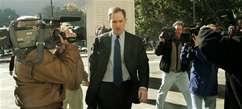 Wells won acquittals for former Agriculture Secretary Michael Espy and former Labor Secretary Raymond Donovan. He is a partner at the New York-based firm of Paul, Weiss, Rifkind, Wharton & Garrison.
Jeffress is from the firm Baker Botts, where Bush family friend and former Secretary of State James A. Baker is a senior partner. Jeffress has won acquittals for public officials accused of extortion, perjury, money laundering, and vote-buying, his firm's Web site says.
Libby was charged with lying to investigators and the grand jury about leaking to reporters the CIA identity of the wife of Bush administration critic Joseph Wilson. Valerie Plame's name was published by conservative columnist Robert Novak after Wilson accused the administration of twisting intelligence in the run-up to the war to exaggerate the Iraqi threat from weapons of mass destruction.
(Copyright 2005 by The Associated Press. All Rights Reserved.)
×
Most recent News stories