Estimated read time: 3-4 minutes
This archived news story is available only for your personal, non-commercial use. Information in the story may be outdated or superseded by additional information. Reading or replaying the story in its archived form does not constitute a republication of the story.
Shelley Osterloh ReportingIt's estimated that nearly everyone, at some point in their lives, will be disabled. Whether it's an injury like breaking your leg or just aging, most of will have some kind of mobility issue some time. But few homes are built to accommodate people with physical handicaps.
The Accessible Homes Foundation was started by a group of people who either have physical handicaps or care for someone who has them. They all know first hand how difficult it can be to find a home that works for them.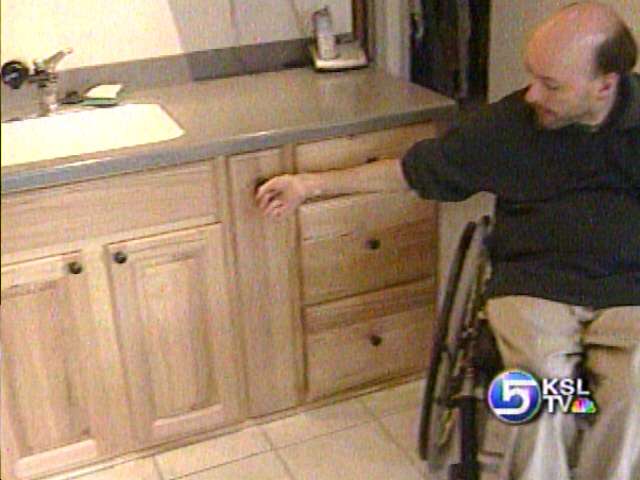 Greg Naccarato lives alone and works as a web designer and computer programmer. Since his rappelling accident when he was 19, Greg has been in a wheelchair. He says finding a home that accommodates his wheelchair was next to impossible. Eventually he found a ground floor condo that he remodeled. Still, he knows many people with disabilities aren't able to find workable housing.
Greg Naccarato, Accessible Homes Foundation: "Well difficult is putting it nicely. It's almost impossible to find ones that are already accessible. Like I said, it nearly impossible."
Naccarato teamed with Ted Loosli, Carol Edic and others to form the Accessible Homes Foundation, a non profit organization aimed at promoting the development of more accessible homes, educating home builders about the need, and listing accessible homes for sale or rent.
Ted Loosli, Accessible Homes Foundation: "It just follows that people are now able to get out and about, they should be able to come home and be comfortable in their own home."
They believe every home should at least have visit-ability --- that is someone with a wheelchair or walker should be able to get in to visit. And many more homes, they say, need to be fully accessible, that is livable and built to a universal design.
Carol Edic, Accessible Homes Foundation: "We would love to see every new home built to a minimum of visitablity standards, and a large percentage, 20 or 30% to be full universal designed. That does not mean customized, it means something everybody could use. "
Getting in the door is the first step. Many ground level apartments still have a three inch step at the entry whereas another one has a ramp, making it easy for anyone to get in including someone in a wheelchair."
Halls and doorways should be at least 36 inches wide to accommodate a wheel chair. All controls, like switches and electrical outlets, should be between 15 and 48 inches high. Bathrooms on the main floor should have reinforced walls to allow future installation of grab bars.
Greg has further adapted his bathroom by removing the vanity and adding a rollable lip on the shower.
Greg also had his kitchen counters lowered just by removing the toe-kick at the bottom. He chose stock appliances that work for him, like a side-by-side refrigerator and a stove with front controls.
He says it's more expensive to go back and retrofit a home than it is to build homes with universal design -- that is homes that work well for anybody, with or without a disability.
The Accessible Homes Foundation also provides a free listing for houses or condos that are accessible and it can provide designs or plans for new accessible homes.
×
Related links
Most recent Utah stories