Estimated read time: 4-5 minutes
This archived news story is available only for your personal, non-commercial use. Information in the story may be outdated or superseded by additional information. Reading or replaying the story in its archived form does not constitute a republication of the story.
Debbie Dujanovic ReportingHundreds of Utah homes, former meth labs, have been shut down until they're rid of the dangerous drug. But an Eyewitness News Investigation uncovers disturbing evidence: Homes the government reopened and declared safe, may not be.
Could you be living in a former meth lab? Baby Mac and his parents do. They found out after they purchased the home. No problem, said Salt Lake County. The place has been cleaned and declared safe to live in. That's until we discovered what baby Mac's really sleeping in.
The raids, the chemicals, hundreds of homes contaminated with meth. The rule issued by the health department -- stay out until inspectors certify the houses are clean.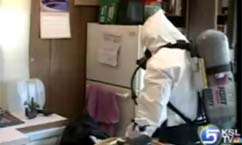 We discovered there are now more than 250 homes in the Salt Lake area that were once meth labs. Do the people living there now know that? Or did sellers keep it a secret? We went knocking on some doors.
"Did you know in 2002 this was a meth lab?" we asked one homeowner. She didn't know.
Salt Lake resident Katie Pratt said, "I'm really surprised. I'm shocked right now."
She says she would've run from the deal.
Another Salt Lake County resident, Jamie Alkinani, said, "We had no idea when we bought it."
We started out investigating Utah's lax disclosure laws on meth homes. Once a contaminated home's been certified as clean, no one has to say a thing about it. But then we discovered that in some of those so-called clean homes, residents were complaining about headaches, coughs, and other symptoms.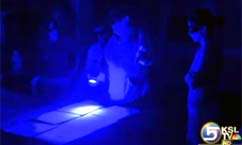 Retired drug cop Charles Illsley quickly detected chemical stains at two homes already cleared by Salt Lake County.
Jamie Alkinani said, "My kids are my life. It scares me to death."
First the Pratts. Seven years before they moved in, meth was found in the garage. A county health inspector responded and took no action. The county says it didn't have standards then. It does now but never went back.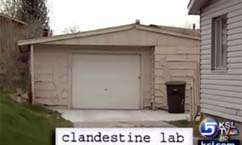 So we did, with a meth-testing kit. The results stunned Adam Pratt.
"After looking at the test results and seeing how much is there, there's still quite a bit there," he said.
The Alkinanis, who live 20 minutes away in Kearns, showed us a letter from Salt Lake County dated more than a year before they moved in. It declares their home successfully decontaminated.
We tested the shed where police found the lab, and the upstairs bedroom where baby Mac sleeps. Our results made Jamie Alkinani want to cry.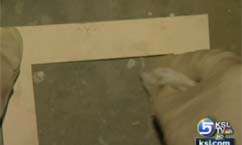 Both places tested positive for meth. In baby Mac's room, there were levels 14 times above what the state considers "safe."
Jamie said, "I talked to someone at the county. I trusted what they said.
"They assured us it was safe. So they lied, flat-out lied."
The Alkinanis immediately moved into a hotel. We went to the Salt Lake Valley Health Department. We asked employee Royal DeLegge, "Have you put that family in any jeopardy as far as their safety?"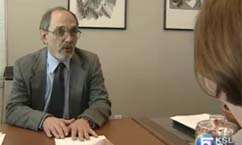 "Have we?" DeLegge responded. "We have not."
Next we asked, "Would you recommend she put her baby back in that bedroom?"
DeLegge said, "I would suggest she have a clean-up done."
But his division already approved a cleanup done by a certified contractor. What happened?
"We're learning as we go along," DeLegge told us, "and where we find incidents like these, it's a learning experience."
We pointed out that the letter doesn't say that. It says decontamination was successful.
The county's own file shows the contractor conducted tests in four small spots to verify the house was decontaminated, but not one in the bedrooms -- including the area where the meth cook stored his drugs and slept. That's now a child's room.
We asked DeLegge, "Does it concern you that room was not tested?"
His response, "Well, apparently we have a problem with it."
Wonder why we picked this up, but the county didn't? It never verifies results with its own tests.
"We'll work with the property owner to make sure this is resolved," DeLegge said.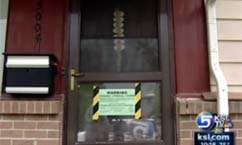 The next day, there was a notice on the Alkinani's front door, apparently based on our tests. The county says it's in the rules: The family must fix the problem and foot the bill.
We also took the results of our investigation to Salt Lake County Mayor Peter Corroon. He said, "The system broke. That's the bottom line."
"I want to make sure we don't repeat the mistakes, wherever mistakes were made," he said.
Corroon says he'll take this case to the Board of Health, to see if there's a widespread problem. In the meantime, because of baby Mac's recent bout with RSV and other illnesses, a pediatrician told the Alkanani family to stay out until more test results come in on their home.
I spoke with the family today. They have an attorney and plan to sue the county.
We have links to the addresses of hundreds of old meth labs in the related links box on this page.
×
Related links
Most recent Utah stories