Estimated read time: 3-4 minutes
This archived news story is available only for your personal, non-commercial use. Information in the story may be outdated or superseded by additional information. Reading or replaying the story in its archived form does not constitute a republication of the story.
ALBUQUERQUE, N.M. (AP) -- John Beck threw for 371 yards, including the game-winning 23-yard pass to Matt Allen with 1:40 left Saturday night as Brigham Young rallied for a stirring 27-24 win over New Mexico.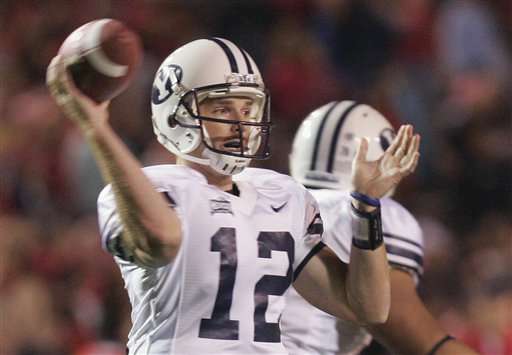 With BYU (2-3, 1-2 Mountain West) down 24-19 with 2:48 left, Beck -- the fourth leading passer in the nation -- needed just a minute and eight seconds to take the Cougars 80 yards on five plays.
Curtis Brown added a two-point conversion run.
Beck was 5-for-5 on the winning drive, including passes of 29 yards to Todd Watkins and 14 yards to Brown. The pass to Brown got the Cougars to the Lobos' 23 and on the next play Beck hit Allen near the sidelines, and Allen juked his way past a Lobo defender into the end zone.
Beck also threw TD passes of 11 yards to Daniel Coats and 5 yards to Joe Semanoff.
New Mexico (3-3, 1-2) lost its third straight and saw its bid to win back-to-back games against the Cougars for the first time in 34 years disappear in a fourth quarter defensive meltdown.
The Lobos led 24-13 early in the fourth quarter and were driving for another score when Kole McKamey fumbled on a run inside BYU's 10, and linebacker Markell Staffieri recovered for the Cougars at the 7.
Until then, McKamey had baffled the Cougars with his footwork and receiver Hank Baskett was pulling in McKamey's passes.
Beck, who completed 34 of 44 passes, completed eight passes in the ensuing 93-yard drive that ended with Brown scoring on a 9-yard run to cut the deficit to 24-19 with 7:15 left.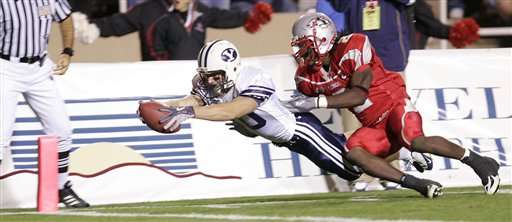 New Mexico went conservative with its next possession and the Lobos got a couple of first downs with the help of two pass interference calls on BYU defenders. But the Cougars held and took over at their own 20 with 2:48 left.
New Mexico had a final shot at forcing overtime and reached BYU's 47 before turning the ball over on downs with less than a minute remaining.
McKamey had 321 yards of total offense -- 103 yards rushing and 218 passing -- and scored on a 2-yard run in the second quarter.
Baskett caught 11 passes for 141 yards and the Lobos also got rushing TDs in the first half of 16 yards from Travis Brown and 2 yards from DonTrell Moore.
But for the second week in a row, New Mexico self-destructed.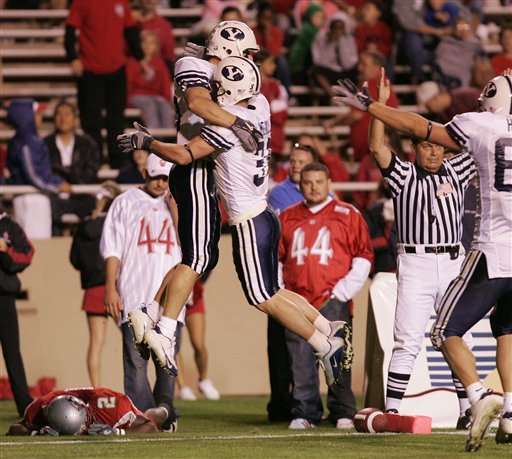 The Lobos had a season-high six turnovers last week in a 49-28 loss at TCU. This time there was only McKamey's fumble, but it was the break BYU needed to launch its comeback.
BYU tight end Jonny Harline caught a career-high 10 passes for 123 yards. Brown had 104 yards rushing on 20 carries.
(Copyright 2005 by The Associated Press. All Rights Reserved.)
First Quarter
   BYU--Coats 11 pass from Beck (kick blocked), 10:17.
   NM--T.Brown 16 run (Byrd kick), 8:32.
Second Quarter
   BYU--Semanoff 5 pass from Beck (McLaughlin kick), 11:27.
   NM--McKamey 2 run (Byrd kick), 7:17.
   NM--Moore 1 run (Byrd kick), 0:18.
Third Quarter
   NM--FG Byrd 24, 3:00.
Fourth Quarter
   BYU--C.Brown 9 run (pass failed), 7:15.
   BYU--Allen 23 pass from Beck (C.Brown run), 1:40.
   A--39,233.
   ------
                           BYU    NM
First downs                     27            28
Rushes-yards              30-93    45-244
Passing                       371          218
Comp-Att-Int          34-44-1  18-28-0
Return Yards                      6              0
Punts-Avg.              4-40.5    4-43.8
Fumbles-Lost                  0-0          1-1
Penalties-Yards             7-84        9-72
Time of Possession        30:37      29:23
   ------
INDIVIDUAL STATISTICS
   RUSHING--BYU, C.Brown 20-104, Semanoff 1-6, Team 3-(minus 8),
Beck 6-(minus 9). New Mexico, McKamey 17-103, Moore 22-82, T.Brown
6-59.
   PASSING--BYU, Beck 34-44-1-371. New Mexico, McKamey 18-28-0-218.
   RECEIVING--BYU, Harline 10-123, Watkins 6-68, C.Brown 5-35,
Meikle 3-21, Allen 2-40, Semanoff 2-25, Coats 2-22, Tonga 1-20,
Ashworth 1-7, Griffin 1-7, Reed 1-3. New Mexico, Baskett 11-141,
Hall 2-39, Moore 2-24, T.Brown 2-8, Mulchrone 1-6.
<p>
   (Copyright 2005 by The Associated Press.  All Rights Reserved.)</p>
×
Most recent BYU Cougars stories