Estimated read time: 3-4 minutes
This archived news story is available only for your personal, non-commercial use. Information in the story may be outdated or superseded by additional information. Reading or replaying the story in its archived form does not constitute a republication of the story.
By TOM RAUM
Associated Press Writer
WASHINGTON (AP) -- In the face of criticism from the left and right, President Bush insisted Tuesday that Harriet Miers is the nation's best-qualified candidate and assured skeptical conservatives that his lawyer-turned-Supreme Court nominee shares his judicial philosophy -- and always will.
"I've known her long enough to know she's not going to change, that 20 years from now she will be the same person with the same judicial philosophy she has today," Bush said. "She'll have more experience. She'll have been a judge, but nevertheless the philosophy won't change, and that's important to me."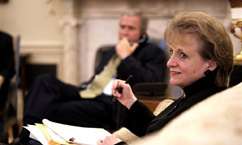 Dismissing Democratic charges of cronyism, Bush said: "I picked the best person I could find. People know we're close."
Bush called the news conference, his first since May, as he struggles to regain political strength sapped by a confluence of events -- high gas prices, a rising death toll in Iraq and a bungled response to Hurricane Katrina. His job approval rating, near the lowest point of his presidency, faces another test with the nomination of Miers.
The president said he did not ask Miers about her position on abortion -- "there is no litmus test" -- even as he gave conservatives his personal assurance that she's one of them.
"I know her character. She's a woman of principle and deep conviction. She shares my philosophy that judges should strictly interpret the laws and the Constitution of the United States, and not legislate from the bench," he said.
Bush challenged Democrats to avoid a partisan tone in confirmation process. "The decision of whether or not there will be a fight is up to the Democrats," he said, urging Congress to put Miers on the bench by Thanksgiving.
On Katrina, Bush said he would work with Congress to "make real cuts" in non-security spending to help in rebuilding the Gulf Coast. "The private sector will be the engine that drives the recovery of the Gulf Coast," he said.
Bush insisted the government could afford to pay for rebuilding the Gulf and fighting in Iraq. Polls show growing numbers of Americans want to cut money from Iraq to pay for Katrina recovery.
He defended his policy on Iraq, saying that nation's forces are improving their ability to fight insurgents.
His choice of Miers dominated the news conference. While no senator has come out against the nomination, conservatives and liberals alike are questioning whether she was the most qualified candidate for the high court.
Some Democrats are accusing Bush of cronyism, a charge he faced after the bungled Katrina recovery effort led to the firing of the government top disaster official, a Bush loyalists. Some of Bush's own supports are expressing dismay that he chose a White House lawyer with no judicial experience over several well-documented conservative jurists.
Bush needs to keep conservatives senators in line to push Miers' nomination through the Senate. More broadly, Bush can't afford to alienate his political base now that Democrats and many moderate voters are telling pollsters they're unhappy with his job performance.
Several conservative leaders, including James Dobson of Focus on the Family, have given Miers a qualified endorsement -- saying, in effect, that they have faith in Bush's judgment. Several others, including commentator Rush Limbaugh, have criticized the pick. The White House has enlisted Vice President Dick Cheney and scores of other Bush loyalists to lobby conservatives on Miers' behalf.
(Copyright 2005 by The Associated Press. All Rights Reserved.)
×
Most recent News stories