Estimated read time: 3-4 minutes
This archived news story is available only for your personal, non-commercial use. Information in the story may be outdated or superseded by additional information. Reading or replaying the story in its archived form does not constitute a republication of the story.
PROVO, Utah (AP) -- Brigham Young coach Bronco Mendenhall was much happier Saturday than he was a week before.
John Beck threw for 255 yards and three touchdowns to lead BYU to a 45-10 victory over Eastern Illinois, giving Mendenhall his first victory.
"It was a great feeling," Mendenhall said. "I see the end in mind and this is just another step in the direction I'd like this football program to go."
After a disappointing 20-3 loss to No. 19 Boston College last Saturday, when the Cougars had 10 penalties, Mendenhall was proud of his team this week.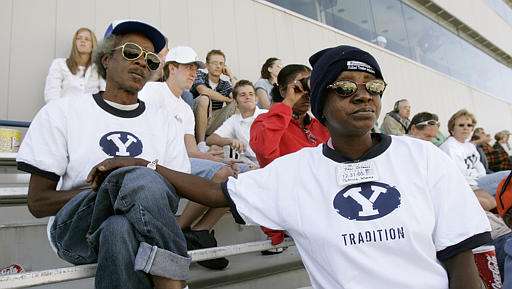 "I appreciate the way they worked this week," Mendenhall said. "From the moment the game was over last week in the locker room, I felt like they had a resolve and determination to play better."
The Cougars (1-1) capitalized on early mistakes by the Panthers (1-1) and finished with 431 yards of offense. BYU had 176 rushing yards after running for just 8 the week before.
"I think we lost to a superior team," Eastern Illinois coach Bob Spoo said. "There's no question about that. The thing that we couldn't afford to do we did. We gave them 17 points off turnovers."
The Cougars, who scored the first 31 points of the game, forced three turnovers and held the Division I-AA Panthers to 196 total yards.
"Even though the score was lopsided today, there's plenty of things we can improve on as a program," Mendenhall said. "There are still things to fix and correct, but I like our football team and I like the way they're responding."
Beck completed 26 of 40 passes, including a pair of touchdowns to Todd Watkins in the second quarter. Beck scrambled away from the defense and found Watkins for a 31-yard touchdown with 12:31 remaining in the second quarter.
"When John has time and with his athletic ability, it's just like our scramble drill. Just get open," Watkins said.
Beck, who added a 6-yard scoring pass to Watkins later in the period, also threw two interceptions and ran for a touchdown.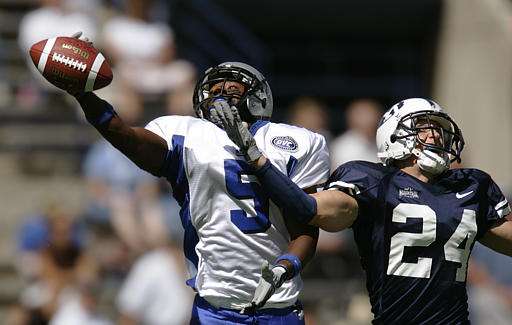 Curtis Brown had 18 carries for 110 yards and a touchdown for the Cougars.
Eastern Illinois didn't score until Zack Yates kicked a 23-yard field goal 5 minutes into the third quarter. Vincent Webb added a 2-yard touchdown run for the Panthers' only touchdown.
"I think our second half effort was more indicative of the kind of I-AA program that we have," Spoo said.
Eastern Illinois' Mike Donato was 14-for-29 for 126 passing yards and threw one interception in his second career start. Travorus Bess led the Panthers in rushing with eight carries for 27 yards.
BYU's Naufahu Tahi closed out the scoring with a 7-yard pass reception from Beck and then a 6-yard touchdown run in the final minute.
(Copyright 2005 by The Associated Press. All Rights Reserved.)
BC-FBC--E. Illinois-BYU Stats,0151
E. Illinois-BYU Stats
E. Illinois-BYU Stats
E. Illinois        0    0    3    7--10
BYU           17    14    0    14--45
First Quarter
   BYU--C. Brown 1 run (McLaughlin kick), 11:34
   BYU--Beck 1 run (McLaughlin kick), 8:55
   BYU--FG McLaughlin 20, 2:47.
Second Quarter
   BYU--Watkins 31 pass from Beck (McLaughlin kick), 12:31
   BYU--Watkins 6 pass from Beck (McLaughlin kick), 3:46
Third Quarter
   EIU--FG Yates 23, 9:48
Fourth Quarter
   EIU--Webb 2 run (Yates kick), 12:22
   BYU--Tahi 7 pass from Beck (McLaughlin kick), 6:01
   BYU--Tahi 6 run (McLaughlin kick), 0:41
<p>
   A--52,630
   ------
                        EIU    BYU  
First  downs                      9            21
Rushes-yards             30-70    32-176
Passing                      126          225
Comp-Att-Int         14-29-1  26-41-2
Return Yards                   59            68
Punts-Avg.               10-36      3-29
Fumbles-Lost                 3-2          2-2
Penalties-Yards            8-78        7-42
Time of Possession       26:20      33:40
   ------
INDIVIDUAL STATISTICS
   RUSHING--EIU, Bess 8-27, Webb 10-24, Owens 1-8, Donato 5-8, Smith
3-4, Kniss 1-3, Campione 1-3. BYU, Brown 18-110, Tahi 9-59, Meikle
1-11, John Beck 4-(-minus 4).
   PASSING--EIU, 14-29-1. BYU, Beck 26-40-2, Berry 0-1-0.
   RECEIVING--EIU, Voss 3-33, Duhai 2-15, Bess 2-13, Owens 2-11,
Nozinor 1-32, Kesler 1-9, Mobley 1-6, Webb 1-4, Morris 1-4. BYU,
Watkins 7-93, Coats 4-30, Brown 4-14, Allen 2-48, collie 2-20,
Meikle 2-17, Griffin 2-14, Tahi 2-10, Reed 1-9.
</p><p>
   (Copyright 2005 by The Associated Press.  All Rights Reserved.)
   </p>
×
Most recent BYU Cougars stories