Estimated read time: 2-3 minutes
This archived news story is available only for your personal, non-commercial use. Information in the story may be outdated or superseded by additional information. Reading or replaying the story in its archived form does not constitute a republication of the story.
After yesterday's downpour of nearly four inches of rain Tooele tries to dry out and clean up before tomorrow's next storm.
It isn't as bad as it was yesterday, but water is still pouring down the street. The city usually has a backup plan, but an underground pipe broke, forcing the city to run water down 700 South. On Coleman Street Utah Disaster Kleenup teams have spent the day trying to keep sewage out of 13 homes.
Ben Keller: "Utah Disaster Kleenup: "We're just flushing all the floors, getting all the sludge off the floors, the sludge off the walls."
At the Howell's home, they had about two feet of sewage downstairs. The mess caused a lot of stress for Sharon Howell.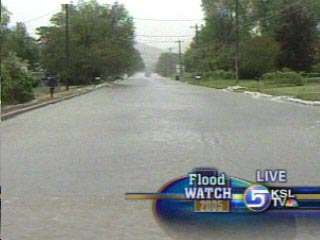 Sharon Howell: "I didn't do too good because I've been out of it and they had to take me to the hospital."
Sharon says she's lost furniture, paper work, and valuable photos. She's currently organizing some of her china and pictures.
Sharon Howell: "I have a lot of antiques and I'm hoping that I can save some of them."
Down the street at Jeff Jolley's house a subcontractor finished cleaning the floor after 10 hours of work. Now it needs sanitizing. Jolly can't forget the sewage coming up from the toilet, which he's since removed.
Jeff Jolley: "I even got up and stood there on top of them, and the water just kept gushing."
Lin Griffiths, Utah Disaster Kleenup: "We've had crews working 12 hour shifts, 15 people working on the crews. Thus far we've pumped out about 32-hundred gallons of sewage."
Meanwhile, at the county courthouse, yesterday's heavy rainfall overwhelmed the drainage system and spilled through the window well. Ironically, it filled the offices of the county emergency management. Today 31 fans worked to air it out.
The city of Tooele does have an ordinance designed to help victims of sewage backup. They normally pay up to $2,000 for one home. A lot of the residents we talked to said just putting carpet back in could cost more than that. We called the city, they did say they've paid more than that before and they will take each case on its own merit.
×
Most recent News stories