Estimated read time: 2-3 minutes
This archived news story is available only for your personal, non-commercial use. Information in the story may be outdated or superseded by additional information. Reading or replaying the story in its archived form does not constitute a republication of the story.
Jed Boal ReportingNorthern Utah communities soaked by yesterday's storm dried out today, but forecasters still fear the possibility of more flooding. The peak of the run-off has passed for many creeks, but another storm this week could still make streams jump their banks. The flood watch is still in effect on Big Cottonwood Creek and over in Little Cottonwood Creek.
The snowmelt threat has dropped significantly as long as no one gets hammered like we saw yesterday. Streets in Tooele ran like rivers after nearly four inches of rain in four hours. Water flooded homes, sewage backed into basements. The deluge in Draper drowned streets in mud. That's the fear on critical creeks still flowing with snowmelt.
Brian McInerney of the National Weather Service ran a simulation.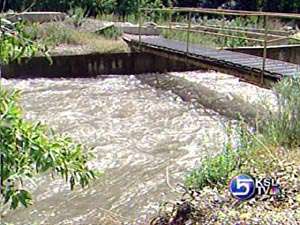 Brian McInerney, National Weather Service Hydrologist: "What if we put the rain that fell over Tooele and put it over Little Cottonwood Creek? Our forecast models indicated we had a flood of record flows we've never seen before."
It's only one valley away. The flood threat is dropping across the state. The threat now is another storm on the horizon.
Brian McInerney: "Right when we should be amping down our flood threat, we have rainfall that could potentially push us over flood levels."
Big and Little Cottonwood Canyons, the southern slope of the Uintas, and the Logan River remain under a floodwatch. Those drainages still have enough snowpack to continue high river flows. The storm Wednesday through Thursday could deliver more than an inch of rain. If thunderstorms sit over a high flowing river the risk rises.
Brian McInerney: "It's the rain we have to worry about coupled with what remaining snow we have."
To the south a flood warning remains for the Sevier River. Flooding continues in the upper Basin, and flooding below the Piute Dam to the town of Aurora is likely--that will continue more than a week.
While the flood threat will drop on most of our creeks, it's still very dangerous on the banks and will remain that way for weeks.
×
Most recent News stories