Estimated read time: 2-3 minutes
This archived news story is available only for your personal, non-commercial use. Information in the story may be outdated or superseded by additional information. Reading or replaying the story in its archived form does not constitute a republication of the story.
Samantha Hayes reporting Rangers are warning everyone planning to camp or picnic near water this holiday weekend to be careful.
Some campgrounds have been closed in parts of the state because of flooding, and other spots are dangerously close to high waters.
Little and Big Cottonwood Creeks look more like raging rivers. They are expected to peak this Friday, just as folks head up to the mountains for the long holiday weekend.
Nathan Fisher/father: "Just don't go anywhere near it..if you fall in the river you are dead."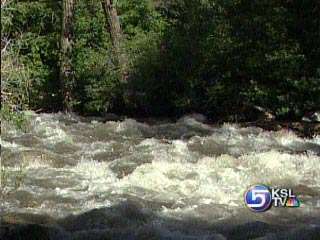 Rangers expect Big and Little Cottonwood Creeks to peak Friday, but even at this level, the current is moving boulders downstream.
Carol Majeske/Recreation Officer: "If its powerful enough to move big boulders, a person doesn't stand a chance."
In some picnic areas in Big Cottonwood Canyon, the creek is moving so swiftly that rangers have put in sandbags to keep the water from eroding away the bank.
Carol Majeske/Recreation officer: "See we've already got water which we've diverted around here..this is really working..if this wasn't here we'd have water coming up on this sight."
For now, even a picnic area close to the creek is open for the public to use.
Carol Majeske/Recreation officer: "The weather is going to be beautiful so people can come out as long as they stay away from the stream."
Salt Lake County knows not everyone will heed that warning.
Jim Segerstrom/Special Rescue Services Group: "Unfortunately it translates to these guys getting calls for people not prepared to deal with unexpected high water."
The Swift water rescue team is preparing just in case.
Thad Moore/Salt Lake County Rescue: "The force of the water..people underestimate the force of the water coming down the canyon."
Several campgrounds around the state have been closed due to flooding. For more on that, click here
×
Most recent News stories