Estimated read time: 2-3 minutes
This archived news story is available only for your personal, non-commercial use. Information in the story may be outdated or superseded by additional information. Reading or replaying the story in its archived form does not constitute a republication of the story.
John Hollenhorst reporting The floodwatch continues in Southwestern Utah, but emergency officials are increasingly optimistic they have the problem under control.
In Cedar City the rivers in the area are expected to rise again tonight, possibly to the highest levels yet in the spring runoff. So why are officials optimistic? It's because they adopted a strategy of divide and conquer.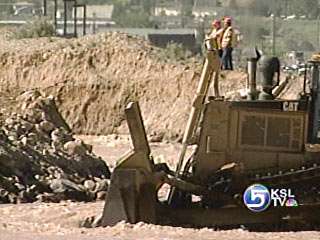 There is a huge trench where there used to be a small irrigation ditch. Over the last few weeks it's been widened and deepened, cut 11 feet below ground level. About half the flow of Coal Creek is being diverted into it, so the water flows to the west where it won't threaten any homes.
By dividing the waters of clear Creek and putting half of it into a deep trench, officials think they have substantially reduced the flood threat throughout the valley.
Bruce Anderson, Cedar City Employee: "If the channel would have been higher, it would have eroded these banks and then gone into these fields and eventually the homes. So, with all this water, we want it all below the natural ground."
Stephan Platt, Iron County Engineer: "Right now it's very ugly because of the way the meandering is taking the sides of that channel. But it's serving its purpose as flood channel because it's below ground."
The other half of Coal Creek's flow runs past the Cedar City airport, and toward some country subdivisions that were threatened yesterday. Heavy equipment has been continually widening, deepening and channeling that flow. They hope that will keep homes dry and homeowners happy. Tonight will be another test of the effort, but officials think they'll come up smiling when it's over.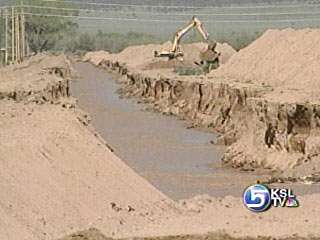 A similar story in the St. George area. Since the devastating floods in January a tremendous amount of channel improvements have been made. Officials no longer expect flooding, unless a huge rainstorm lands on top of the melting snow. An official there told us the only reason they can sleep at night is because of all the work done over the last four months.
×
Most recent News stories
More stories you may be interested in