Estimated read time: 2-3 minutes
This archived news story is available only for your personal, non-commercial use. Information in the story may be outdated or superseded by additional information. Reading or replaying the story in its archived form does not constitute a republication of the story.
Richard Piatt reporting The developers of the four townhomes affected by the Cedar Hills landslide are offering a deal to the people who live there.
A couple of the property owners say this deal is much better than they expected. It includes a full refund from the developer.
Right now, no one fully understands why it's happening. But even as tons of dirt crushes the foundations of several Cedar Hills townhomes, there is good news for the people who used to live in them.
Valerie Sorenson, Homeowner: "I'm actually going to come out better than when we went in, so that's a good thing I think."
The developers who own Highland Homes, are offering to refund mortgage and closing costs to each of the families. They also agree to provide temporary housing while the property owners still pay their old mortgages.
Wendy Wilson, another of the townhome owners, says she is more than pleased.
Wendy Wilson, Homeowner: "Coming out of this a lot better than I thought financially. I am feeling calm and good, so I'm happy."
Highland Homes says it is also offering a $15,000 credit if homeowners decide to buy another home in Falcon Ridge. It also plans to demolish the affected townhomes, investigate the slide, and create a park on the spot near the slide.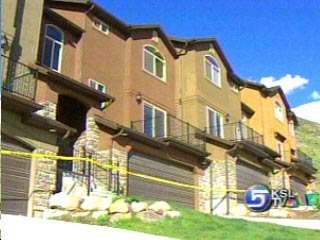 In the midst of all this, people are nervously watching what happens to these homes. Each day the mud moves farther and farther. Some days by a little, others by a lot.
For the developer, Cedar Hills City and the engineering firm that inspected the site, avoiding legal action is a positive part of this relief plan.
Jim Perry,Cedar Hills City Council: "You know, anytime someone is doing something good, that is in the interest of our residents, that's a good thing."
So far, none of the four property owners have formally committed to the deal. But they say they are tempted.
×
Most recent News stories