Estimated read time: 2-3 minutes
This archived news story is available only for your personal, non-commercial use. Information in the story may be outdated or superseded by additional information. Reading or replaying the story in its archived form does not constitute a republication of the story.
(KSL News) -- Heavy mud and massive rocks slide down mountains in Utah County, demolishing homes along the way. It's the latest destruction of all the rain over the past few weeks.
The home at 1468 N. 1550 East in Provo used to be a studio apartment. Now it's a pile of wood, glass and lost memories. The reason? This massive boulder plowed through the home, last night.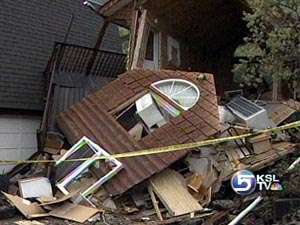 About 20 rocks tumbled down Y Mountain in Rock Canyon, yesterday. One of them was a whopper... at least six feet by six feet and weighing several tons.
Soggy soil from this week's heavy rain sent the rock tumbling down the mountain, destroying everything in its path. It left divets in the hill, took out a lamppost, spewed debris onto the road, blasted through the patio and finally stopped on the other side of the apartment.
Duncan Peterson and his wife rent the house attached to the bungalow. Fortunately, they weren't home at the time.
They say the apartment has been unoccupied for months, but that doesn't mean it was empty.
Duncan Peterson/Home Renter: "There were some pictures on the wall and my bugle from high school on the wall, and it knocked it off, actually."
Cedar Hills
The mudslide above Cedar Hills has stabilized today after moving more than 25 feet yesterday, which caused substantial damage to four townhouses in the slide's path.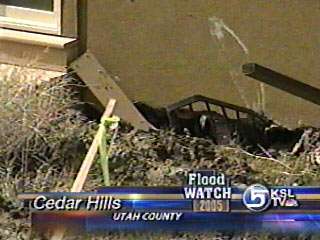 The slide seems to have slowed down today, but the damage has already been done. Mud has now invaded all four of the townhouses.
The slide really began moving yesterday morning, after it had been saturated with more than three inches of rain in the last week. Two days of heavy rain on Tuesday and Wednesday helped the mud ooze down the mountain.
The intense pressure from the tons and tons of wet mud has pushed through the stucco framing of the homes and is now filling up a storage area in each unit, near the garage.
All of the townhouse were evacuated two weeks ago, but for the homeowners the destruction of their houses is painfully slow and it appears little can be done to stop the mudflow. Utility crews are in the area today to make sure that underground gas lines and power lines are still safe for the other residents in the neighborhood. But the long-term outlook for the neighborhood remains in question.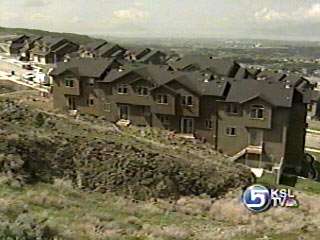 Six other homes were put on high alert last night to be ready to evacuate if the slide keeps moving, especially with more rain in the forecast next week.
×
Most recent News stories