Estimated read time: 1-2 minutes
This archived news story is available only for your personal, non-commercial use. Information in the story may be outdated or superseded by additional information. Reading or replaying the story in its archived form does not constitute a republication of the story.
Sam Penrod reportingAnother day of rain has people in Cedar Hills looking at the mountain. That's because a mudslide is threatening several homes.
For the last two days now the rain has been falling almost constantly, and that has people very worried that the landslide is going to start moving again.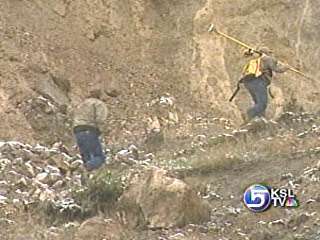 The rain is falling on the slide, but not very much higher up the mountain is snow. The ground here is very saturated and survey crews are watching the ground movement almost every day, to see if the slide is moving.
The Mayor of Cedar Hills reports that the slide has moved nine inches in the last day, that's not much but some reason for concern. Two weeks ago when the slide rolled down the mountain it was moving at nearly two feet in an hour.
People who live below are prepared. Four townhouses remain empty, after the residents were evacuated from the area.
Some residents across the street are also watching the slide area as well. In case it begins to move significantly, they can move out.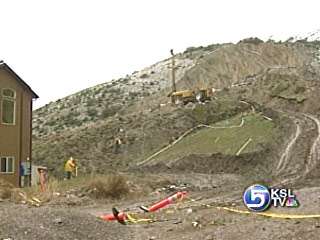 The good news is that the slide here is relatively stable right now. But geologists have warned that more rain could make the slide more active and with rain forecasted both today and tomorrow. So the long term outlook here is still questionable.
×
Most recent News stories