Estimated read time: 2-3 minutes
This archived news story is available only for your personal, non-commercial use. Information in the story may be outdated or superseded by additional information. Reading or replaying the story in its archived form does not constitute a republication of the story.
Sam Penrod ReportingThe flood watch is on in Southern Utah after a day of rain throughout Washington County, but so far no sign of any flooding. All eyes are on both the Virgin and Santa Clara rivers in the St. George area.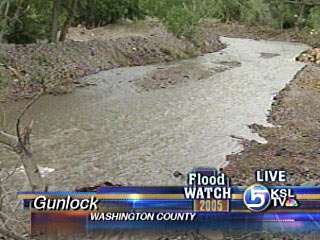 It has been raining all day long off and on here in Washington County. At Valley View Drive in Green Valley, where the bridge was washed away along with several homes in January, you can get a close up look at the river, and we've seen people driving here all day long to get a look at the river and see if it is rising. But so far there are no significant changes to the water level, so that is a big relief.
One community that is watching the storm very closely is Gunlock. This is the town that was cut off and isolated in January when the Santa Clara River washed all of the bridges to town out, leaving them stranded for several days. A temporary bridge is in place, but there is some concern if it will be able to handle a sudden surge of water. Work is underway to get the river back to its original path, but it is a big job.
We spoke with one Gunlock resident whose yard was nearly washed away in January. It's looking a lot better now, but he and everyone in Gunlock is keeping a close eye on the river, because it has been a long three and a half months trying to get their homes back to normal.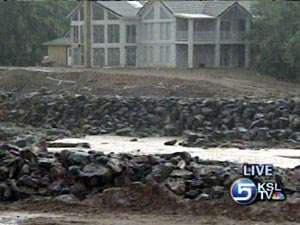 Lynn Aplanalp, Gunlock Resident: "When you first start there is so much to do, you don't know where to start, so you jump around like a nut from one place to another, but don 't accomplish anything. We finally got organized. We have the shed repaired."
All over Washington County today, people have been watching dark clouds bringing rain to the area. The precipitation levels have not been anything out of the ordinary, so that is helping to keep the river levels manageable.
And in Green Valley rocks have been brought in to keep the river on course, and again so far we have no reports of any flooding here in Southern Utah.
×
Most recent News stories