Estimated read time: 7-8 minutes
This archived news story is available only for your personal, non-commercial use. Information in the story may be outdated or superseded by additional information. Reading or replaying the story in its archived form does not constitute a republication of the story.
*Team Coverage**Sam Penrod Reporting*Governor Huntsman: "We're up against some very real meteorological trends in the next couple of days and we need to be in a position to respond."
More problems today from the weather. Several homes are threatened by a mudslide in Utah County, while the flooding isn't over yet in Northern Utah. The rain has temporarily stopped but the problems haven't.
In Cedar Hills four families were forced out of their homes today because of a major mudslide. The slide has slowed down today, last night it was moving about two feet an hour, now it's sliding about six inches an hour. But there is little that can be done to stop the mudslide and at least four town houses below the slide are sitting in a real danger zone.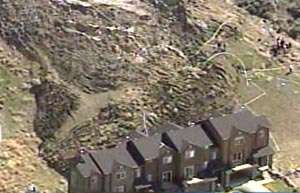 As you look out Jeff Wheeler's back door, the mountain seems to be headed inside his house. His backyard is already gone, covered with tons of heavy, saturated mud that is now pressed up against his home.
Jeff Wheeler: "It's kind of humbling what Mother Nature can do to you. There are a lot of great people here helping us out. We just want to get everything out and get it restored. Hopefully the weather will give us a break."
Last night the slide broke away from the hillside and started to move. By morning it was within inches of four townhouses so neighbors came to the rescue and pitched in to move the families belongings out.
Lyle Nielson, Neighbor: "It's going real well. We're getting everything out. Hopefully get it done before they condemn the place."
The slide is roughly one thousand feet long and is inching closer to the homes. Geological survey crews are trying to determine the path the slide could take and say with more rain this weekend it is possible the slide could cross the road and put other homes like Greg Nield's in jeopardy.
Greg Nield: "I think we're ok, we're more worried about these guys first."
This mudslide is the latest weather-caused disaster in Utah that is putting homes and property in danger. Today the governor visited the neighborhood and met with the evacuated residents.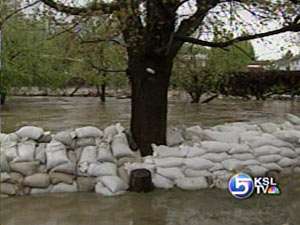 Governor Huntsman: "We're saddened for the families that have been put out. I mean to have to vacate the premises and take all your possessions to a secondary location has got to be very difficult and painful for the families, young families who are here."
Survey crews are watching the slide's progress very closely, again though, with more rain in the forecast it is expected that it will keep the slide moving, movement that could last for weeks. So there's a lot of uncertainty right now about the future for many homes in this neighborhood.
---
Jed Boal ReportingFlood waters rushed over the riverbanks in Cache County again today, this time in the city of Nibley, south of Logan.
Fortunately it was a dry day, but the water in the Blacksmith Fork River is still really rushing through the area. It took an army of volunteers to hold back the water. A huge pile of debris was jammed up behind the bridge and was damming up the water, causing much of the water to flow out into grassy areas and over state road 165.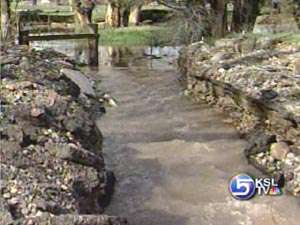 Right now emergency managers are pretty confident that the peak of the flooding has passed, as long as it doesn't pour again. It has been a pretty tense 24 hours though.
State Road 165 was a river this morning as Blacksmith Fork River overflowed its banks and threatened about a dozen homes.
Lyn Welker, Mayor of Nibley: "This is 'Lake Nibley'. It comes about every 20 years. We have a little effort to keep it in the river banks."
Two to three inches of rain was just too much for the creek, already rising with runoff. About 500 volunteers sandbagged last night and 300 students from Mountain Crest high school finished the job.
Tasha Kadis, Student, Mountain Crest High School: "Three-hundred students came out just to support. It's a good service hours for school. I know I've done a lot of service so it's good service for me. I think it's awesome."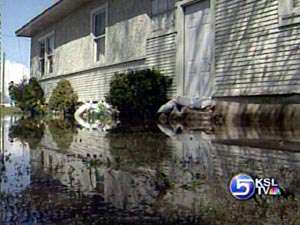 Mayor Welker: "We're trying to sandbag the river in two different directions, and keep it in its banks. And I think we'll then take the river off from Highway 165."
They got the job done. The sheriff's office reports only five homes took on water, with four or five inches of basement flooding. Emergency crews even dug a trench through a road to let the water escape into fields and avoid homes.
---
John Daley ReportingSo, with heavy snowpack still waiting to come down from Utah's mountains and mixed spring weather expected, where are the danger zones? What areas might we see more flooding and mudslides?
Any area that gets swamped with rain will see flooding, just like what happened in Northern Utah. But the areas weather watchers are most worried about are drainages where the snowpack is high in the mountains above and areas with a history of slides.
Water-saturated earth on the move, fast-moving streams overflowing their banks, these weather-related events can happen any where, any time in Utah. Case in point--yesterday's flooding in Northern Utah occurred in a part of the state the water watchers were least worried about.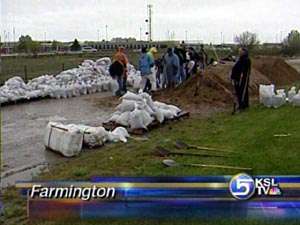 Brian McInerney, Hydrologist, National Weather Service: "The Weber River, the Bear River had a lesser flood potential based on spring snowmelt and runoff. But yet we had a rain event of two to three inches that created flooding in the Cache Valley and into Brigham City."
But this year things are particularly dicey, thanks to deep snow pack in the mountains, just waiting to start melting, combined with saturated soils.
Brian McInerney: "They're two to three times wetter than they were last year. As a result, when you have a rain event it doesn't infiltrate, it runs off and you get events like we saw yesterday."
But the areas with deepest snowpack are the danger zones with the biggest potential problems, spots like Cedar City on Coal Creek, the headwaters of the Sevier River, the southern side of the Uintahs, especially near Vernal--also Little Cottonwood, Big Cottonwood, and American Fork creeks.
Brian McInerney: "The rainfall is the real wild card in the spring runoff scenario."
Our wet weather too is causing more mudslides. Last year by this time we'd had 17 of them, but this year we've seen more than double that--43 slides. The key factor, of course, is lots of water.
The state's geological office says areas below high snowpacks are most at risk. The poster child for this dangerous scenario are the floods in Farmington two decades ago,where a high snow pack melted quickly in hot weather.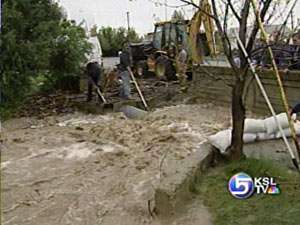 Giraud says some areas in Ogden, Layton and South Weber could be prone to slides. The bottom line isjust about anywhere can be at risk, but especially near streams and hillsides with a history of trouble.
---
Richard Piatt Reporting Victims of the flooding and landslides are relying on help from both official and unofficial sources. Government steps in to help, sometimes with a surprisingly personal touch.
Even as Governor Huntsman tours the site, state resources are in place to try to figure out what happened and how bad it may get.
Governor Jon Huntsman Jr.: "Well the state now has a geological survey that's providing a geological analysis of the break in the mountain, and if it slides, who will be impacted."
State officials are also keeping an eye on high water danger spots like those in Northern Utah this week. But it is local officials who make the call on how and where resources are doled out. That includes when to start building and placing sand bags. In this case, people in Farmington are volunteering on the spot, remembering how the floods of '83 destroyed neighborhoods there.
Viola Kinney, Sandbag Volunteer: "Well, Paul White is the emergency coordinator for Farmington city, and I work for the city and these are my neighbors, and I thought I'd come and help."
The line between a paid job and volunteerism gets a little blurred in times like these. But most elected officials are conscious of how Government resources affect friends and neighbors.
People would like government to have all the answers, to make everything better in the case of a disaster. But when high running streams end up spilling onto private property, it will be insurance that handles most of the financial loss, something to keep in mind if you suspect your home might be in harm's way.
Representatives from the Governor's office also toured Northern Utah this week, evaluating the flood damage in Cache and Box Elder Counties.
×
Most recent News stories