Estimated read time: 2-3 minutes
This archived news story is available only for your personal, non-commercial use. Information in the story may be outdated or superseded by additional information. Reading or replaying the story in its archived form does not constitute a republication of the story.
Samantha Hayes reporting Instead of gradually melting this month, the high snowpack in our mountains has had more water added to it.
Its always an extreme it seems. Last year we could have used a wet April. Now it may be too much.
Randy Julander, Hydrologist: "At this point things are starting to get us more nervous."
Spring rains have been adding to our snowpack. Usually by this time, the melting has begun.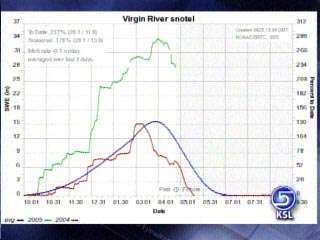 In some areas, snowpack totals now are almost off the charts. The Virgin River Basin is 237 percent of normal, that's the green line. Compare it to normal, which is blue, or even last year's red line.
Randy Julander, Hydrologist: "We know we are going to have high floods in various places..the longer it stays cool and wet like this, the higher that potential becomes."
It's rare that we have just enough sun and just enough rain at the same time. Last year, for instance, instead of flood preparation, the talk was about conserving what little water we had.
Olene Walker, Former Governor of Utah, April 2004: Its not getting better..we're in critical condition, we need to start now to conserve."
In late April last year, Governor Olene Walker signed an executive order for state agencies to cut water use. She also signed a law which required water suppliers to have conservation plans.
Randy Julander, Hydrologist: "Last year when we look at the total amount of water available it was at the bottom end of the scale. This year, in a lot of places its at the top end..to have that flip flop in a single years time period is nothing less than phenomenal."
The next 30 days are critical. Julander says American Fork and Little Cottonwood Canyons have really high snow pack..as does Southern Utah.
The good news, many of the reservoirs are expected to be full.
×
Most recent News stories