Estimated read time: 2-3 minutes
This archived news story is available only for your personal, non-commercial use. Information in the story may be outdated or superseded by additional information. Reading or replaying the story in its archived form does not constitute a republication of the story.
John Daley reporting So, how does today's new information stack up with Mark Hacking's only interview with reporters? The interview was less than 24-hours after he allegedly killed his wife.
We reviewed news footage of Mark's interview at Memory Grove, and compared that with other statements he made to family, friends and police.
A number of inconsistencies stand out.
On the day Lori disappeared, at the spot where her car was found, Mark Hacking told reporters he had no idea where his wife was.
Mark Hacking, July 19: "And then I called her at about ten o'clock to just say hi and see how she was doing and they told me she, 'sorry, she never made it in this morning.'"
From the start inconsistencies stood out.
Mark's brother Scott told reporters that when Lori failed to return from a 5:15 morning run, a search was organized at 8 a.m. But minutes later, Mark says he was just getting up at 8 a.m.
Scott Hacking, Mark's Brother, July 19: "Best of our knowledge she did not return home and we've organized a search starting at about eight o'clock this morning."
Mark Hacking, July 19: "She left about five to come up here. I didn't wake up until eight o'clock."
According to court papers, at 10:07 that day, Mark reported Lori missing to police. He then called Lori's co-workers to tell them he located her car in Memory Grove.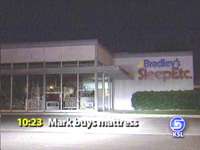 At 10:23 he bought a mattress.
And then called police again at 10:46 to tell them he located Lori's car.
By that evening, Mark was telling reporters that Lori was out there somewhere, and she may be hurt.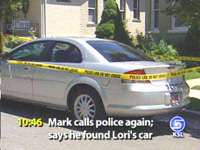 Mark Hacking, July 19: "It's hard to look for my wife knowing I'm looking under branches, I'm looking in the water. I'm looking all these places where, if she's there, then the unimaginable has happened."
This new information today gives us the clearest picture yet of the events that led police arresting Mark Hacking for killing his wife.
×
Most recent News stories