Estimated read time: 2-3 minutes
This archived news story is available only for your personal, non-commercial use. Information in the story may be outdated or superseded by additional information. Reading or replaying the story in its archived form does not constitute a republication of the story.
Tonya Papinikolas reportingA conversation with Mark Hacking's defense attorney, Gil Athay, gives us a glimpse into how everything came together and led to this morning's arrest.
Gil Athay says he and his client were anticipating the arrest by Tuesday.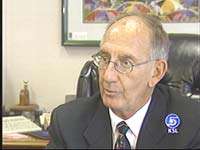 He told Eyewitness News he has been talking and negotiating with the District Attorney's office for most of the week.
He says he'd agreed to notify the D.A. if Mark was released from the hospital, and then surrender him over to authorities. That's exactly what he did.
Gil Athay, Mark Hacking's Attorney: "I believe there was substantial pressure coming from the public. I think the police were feeling pressure to do what was ultimately done today."
Mark Hacking's lawyer says Monday's events were not a surprise to him or his client. Gil Athay met with Mark before the arrest and he says he will continue to meet with him in jail. Right now, he's in the very developmental stages of the case.
Gil Athay, Mark Hacking's Attorney: "We do hire investigators, we do our work, we prepare what we need to. We employ experts, we get our experts up to speed."
Athay anticipates the official charges will be filed in the next couple of days. That will affect his defense, since he doesn't know if prosecutors will be seeking the death penalty.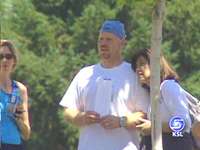 There has been much speculation over an insanity plea. Athay says it's not out of the question, but very difficult to prove.
Gil Athay, Mark Hacking's Attorney: "It certainly is a possibility. Is it something that we're ultimately going to rely upon? I don't know."
Gil Athay, Mark Hacking's Attorney: "You basically have to prove that the person perceives that he or she is killing something other than a human being."
If police do not recover a body, it could hurt the prosecution. But Athay says it doesn't automatically help the defense.
Gil Athay, Mark Hacking's Attorney: "What is a strong case? I don't know. I have not had access to their evidence. I will be getting that once charges have been filed."
Athay admits the family's weekend statement calling off the search because of information Mark revealed was not ideal for him. He says he learned of the statement about 15 minutes before media outlets received it.
Gil Athay, Mark Hacking's Attorney: "There's no question that that's something I would have preferred to have occured in a different fashion, let me put it that way."
Athay says mental illness defenses in Utah have been very limited in past years, but he says he's been one of the few lawyers who has had some success with that kind of defense.
He also told us the massive publicity this case is receiving poses difficulties for a defense lawyer.
×
Most recent News stories