Estimated read time: 2-3 minutes
This archived news story is available only for your personal, non-commercial use. Information in the story may be outdated or superseded by additional information. Reading or replaying the story in its archived form does not constitute a republication of the story.
Jed Boal ReportingAs the family of Lori Hacking prepares for another exhaustive weekend search for the missing woman, police work the case with no new revelations. One legal expert thinks police have come up with a theory, and stayed focused.
For the past 11 days police have been working in a fishbowl, under a lot of scrutiny and a lot of pressure to solve this case. Today they offered nothing new, but that doesn't mean they aren't getting anywhere.
Lori Hacking's family today asked those who want to help to join them in a day of fasting and prayer. Earlier this week they called off the volunteer search, but they are organizing another search this weekend through their website. Police did not search the landfill last night, but will go back when the search dogs are rested.
Greg Skordas has been a prosecutor and a defense attorney in Salt Lake more than 20 years and once headed up the District Attorney's Domestic Violence Victim's Unit. Skordas says it's clear that investigators remain focused on their Plan A -- find Lori Hacking.
Greg Skordas, Attorney: "And it seems right now the plan is to find her at the landfill, or find whatever they're looking for at the landfill."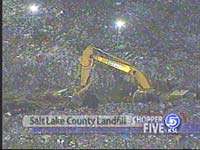 Skordas says there's never been a landfill search like this in Utah. The attorney thinks investigators are doing a good job, but believes they're getting frustrated.
Greg Skordas: "I think it's horribly frustrating. National media is here, local media is here, the D.A.'s office is hovering. The time is starting to weigh on a lot of people."
Skordas says the police could prosecute a murder case without a body, but they'd need solid physical evidence of a homicide from the apartment or elsewhere.
Greg Skordas: "If you look at the entire case, the theory the police are working on is, first the husband mark is the perpetrator. Second that it happened in the apartment. And third, that she was thrown into the trash which ultimately ended up at the county landfill."
Whether or not that turns out to be true, all of the police efforts he says seem to point in that direction. The attorney thinks in four to five days the investigators will find what they're looking for or finish up at the landfill.
×
Most recent News stories