Estimated read time: 6-7 minutes
This archived news story is available only for your personal, non-commercial use. Information in the story may be outdated or superseded by additional information. Reading or replaying the story in its archived form does not constitute a republication of the story.
KSL Team CoverageInvestigators again sifted through the Salt Lake County Landfill on Wednesday night. It was the third night in a row they've been there looking for clues, into the disappearance of Lori Hacking. As that continues, others are sifting through an apparent mountain of deception piled up by Lori's husband, Mark.
Det. Dwayne Baird, Salt Lake City Police Dept.: "Well we think that what he tells us may not be the complete truth, honestly because he hasn't told the truth in what appears to be several years."
We've also gained new perspective about the Hackings from college roommates of Lori's, and former Latter-day Saint missionaries who served with Mark in Canada.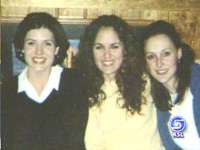 The women met at Weber State University in 1996, for their freshman year of college. They became very close and kept in touch through the years. Now they are sifting back through memories, trying to find any information that can help police find their friend.
For the most part, they remember the good times.
"We would go out and go dancing," said Gina Spackman, a friend and former roommate of Lori Hacking's,. "That was our de-stressor."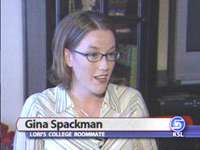 They were the messy roommates. Lori was the neat, organized one.
"All the years that we lived together, she was never late on a payment," said Gina. "Her checkbook was balanced to the penny."
But now Gina Spackman and Heidi Gregory are thinking back on things that at one time seemed strange. Like when Lori's boyfriend at the time, Mark, came home from his LDS mission early.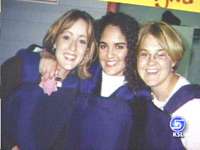 "From what he had told her, it didn't seem like he had done anything wrong," said Heidi Gregory, another former roommate. "It was someone else that had made a mistake that he was sent home."
Years later, in 2000, when the couple was married, Lori revealed strange information about Mark's college classes.
"While we were running one day, she told me that she had found out that he wasn't enrolled in that semester, or that he had withdrawn his classes," Gina said.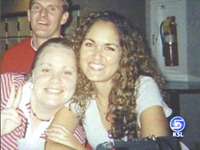 She said Lori reasoned that Mark may have been stressed about work, and maybe felt bad about dropping the classes.
"She just said, He just lied to me. I don't know what that means, and if he has lied to me about other things. But I don't know," Gina continued.
Heidi Gregory said that she felt that since Lori loved Mark, everything must have been fine. But she also recalls feeling uncomfortable around Lori's husband.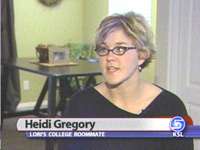 "Just his egotism, he was the man, and I almost didn't measure up. That is what I felt when I was around him," Heidi said.
And the one characteristic that stands out in her mind about Lori, especially now, was Lori's skepticism.
"That was one of the questions. Do you think that she played along? There is no way," Heidi said. "She would call you out on anything."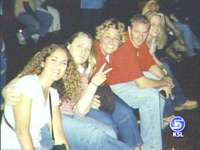 Both Heidi and Gina notified police with the information they had, as soon as they heard Lori was missing.
Mark Hacking's Latter-day Saint missionary companions say they are in shock about Lori's disappearance and questions about Mark's role. Mark Hacking's fellow missionaries describe him as a great friend, gregarious, popular, received a lot of mail from family and friends, talked about Lori and going to med school--but showed no signs of any big problems.
Scott Simpson, Former Companion: "He was just a funny, enjoyable, jovial guy to be around. Always upbeat, in a good mood. I had a great time working with him. I'm of the opinion even with all this speculation that we found this and we found this, I feel Lori was abducted by someone. I don't think that's something Mark would do."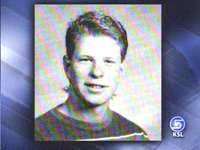 Chris Downey, Served Mission with Mark Hacking: "Really nice guy. Kind of guy who always wanted to see somebody else smile and laugh. Went out of his way to make others smile and laugh."
There are conflicting stories though about whether Mark Hacking completed his LDS mission. Hacking served in Winnipeg, Canada during the mid-90s.
The newspaper the Winnipeg Sun quotes his mission president Lorin Mendenhall as saying: "He served an honorable mission and was honorably released after a period of two years."
But the Sun quotes a website for former Mormons--saying Mark Hacking was sent home for "inappropriate behavior." An anonymous source wrote "basically they all had girlfriends with intimate relationships."
Three of Hacking's fellow missionaries confirm that Hacking was part of a group of elders sent home; rumors flew about it, but say they were never sure why Mark Hacking and the others were discharged.
Scott Simpson, Served Mission with Mark Hacking: "I know he went home a little bit early. I know a couple of guys from his missionary training district went home early. It's just not a question I ever pursued."
KSL contacted Mark Hacking's mission president, he declined to comment. Family spokesman Scott Dunaway has not yet responded to our questions about this part of the story.
Nine days after Lori Hacking disappeared police are still confident they'll solve the case. While public disclosures reveal very little, police are methodically working with evidence and trying to put all of the pieces together.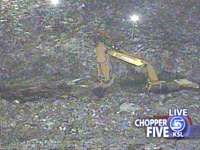 For the third straight night, investigators with dogs have been out at the Salt Lake Landfill. It's one of many steps they are taking as they try to collect evidence that will crack the case.
Piece by piece police are putting together a timeline that they hope will tell them what happened to Lori Hacking. They need to know what she was doing before she disappeared and what happened after she disappeared.
Mark Hacking is part of that timeline, but Hacking's not helping. After two interviews with police early last week Hacking got a lawyer. And police are not sure they could believe him anyway.
Det. Dwayne Baird, Salt Lake City Police Department: "He hasn't told the truth in what appears to be years. He has this entire life of deception."
Investigators think Mark Hacking knows more about the case than he's told them, but it's also possible that he does not know what happened to Lori.
Police are talking with people who knew the Hackings and following any leads. And they're waiting on lab results on evidence they've collected. That could take weeks even a month -- it's more time consuming than we're led to believe on TV crime dramas.
Det. Phil Eslinger, Salt Lake City Police Department: "It's a fairly long process to make sure it's done properly, and that any evidence that is retrieved is admissible in court."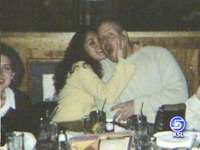 Contrary to some reports, police say they have nothing to indicate Lori Hacking was a victim in a rage killing. And as for the landfill search, they say they will be at it for a while and have found nothing of consequence.
Det. Phil Eslinger: "It's not the smoking gun. There are pieces of the puzzle that are being located."
The police tell us regardless of whether it's a high profile case, there are steps they need to take to perform the investigation properly and thoroughly and that's the way they'll do it.
×
Most recent News stories