Estimated read time: 5-6 minutes
This archived news story is available only for your personal, non-commercial use. Information in the story may be outdated or superseded by additional information. Reading or replaying the story in its archived form does not constitute a republication of the story.
BAGHDAD, Iraq (AP) -- Gunmen killed a U.S. civilian contractor and a roadside bomb left two soldiers dead, while an Apache helicopter killed seven guerrillas thought to be preparing a rocket attack on an American base, the military said Friday.
Unrelenting violence in Iraq has pushed Washington to look at speeding up the transfer of power to an Iraqi-led government.
Top U.S. administrator L. Paul Bremer is meeting Saturday with Iraq's Governing Council to present them with Washington's ideas on a faster transfer. But council member Mahmoud Othman warned that the Iraqis won't necessarily agree with all the details.
"For our part, we have our own ideas," said Othman, a Kurdish member of the 24-member body appointed Bremer four months ago. "We will listen to Bremer and he will listen to us."
Secretary of Defense Donald H. Rumsfeld cautioned that a swifter handing of sovereignty to the Iraqis would not mean U.S. troops and personnel would leave the country any sooner than necessary.
"What it means is the Iraqis would begin to take on a greater portion of responsibility sooner than the original (plan)," Rumsfeld said Friday, during a trip to Japan.
Meanwhile, U.S. forces kept up their new "get-tough" campaign against the insurgency, and the U.S. Central Command said it will add several hundred staff members to its forward headquarters in Doha, Qatar.
Central Command, based in Tampa, Fla. has continually maintained more than a hundred staff members in Qatar since the base was established in late 2002. Staffing has ebbed and flowed dependent upon operations and exercises.
The civilian contractor was killed and another injured when gunmen attacked a convoy of vehicles Thursday afternoon near Balad, 45 miles north of Baghdad, the military said. The victims were not identified pending notification of relatives.
Private U.S. contractors are working in a variety of tasks in Iraq -- helping rebuild infrastructure and train Iraqi police and officials, as well as taking military roles, such as guards.
In Samarra, 75 miles north fo Baghdad, a bomb went off as a convoy passed by Thursday night, killing two U.S. soldiers and wounding three others, the military said Friday.
In Baghdad's northwestern neighborhood of Khadra, a roadside bomb blew up Friday as U.S. soldiers tried to defuse it, causing three casualties among the soldiers, a witness said. The witness, Ahmed Mohammed, did not know if the soldiers were killed or wounded, and the U.S. military had no immediate comment.
U.S. troops blocked the road for about an hour and called through loudspeakers for Iraqis to help them capture those who planted the bomb. They also handed out leaflets offering a $10,000 reward for information about anti-coalition insurgents. The Apache helicopter attack happened near Saddam Hussein's hometown of Tikrit; afterward, a patrol found hundreds of rockets and missiles near the site.
In other developments:
-- Troops from the 101st Airborne Division captured 14 "suspected terrorists," including eight who belonged to a Mosul cell whose leader is suspected of plotting to assassinate a top coalition official. Separately, three suspects were arrested for "conducting attacks on U.S. forces," the military said.
-- Gunmen fired on jeeps carrying Portuguese journalists in southern Iraq on Friday, wounding a reporter in the leg, news reports said. Another Portuguese reporter apparently was abducted.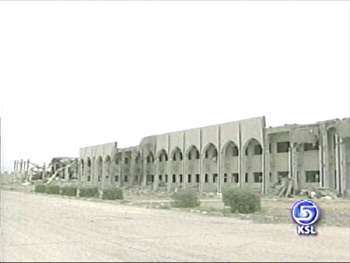 -- In the town of Husayba near the Syrian border, U.S. forces destroyed a three-story building used by insurgents as a staging area for attacks and storage of ammunition. F-16 jets dropped two JDAM satellite-guided bombs on the target late Thursday, the military said.
-- Three paratroopers were wounded, one seriously, late Thursday by a rocket attack near Fallujah, the military said.
The Bush administration is proposing Iraqi elections in the first half of next year and formation of a government before a constitution is written, a senior U.S. official said in Washington. In the past, the administration insisted that Iraqi leaders write a constitution and hold elections before the occupying power begins shifting power to Iraqis.
"The constitutional process will take some time, and we think that during this period the Iraqi people need a basic law, a provisional government and a broader representation in the governing council," Othman said.
Washington's policy shift is widely seen as part of a response to the worsening security situation and the uprising that already killed more than 50 coalition soldiers this month.
Coalition partners were stunned by Wednesday's truck bombing at an Italian installation in Nasiriyah, killing at least 32 people, 18 of them Italians. It was the bloodiest attack on coalition forces since the war began on March 20.
In the wake of the attack, Japan said Thursday it was delaying a decision on sending troops to Iraq, delivering a new setback to U.S. hopes for easing the pressure on its forces.
After South Korea said it would limit its contribution to 3,000 troops, officials said Friday that Seoul has ordered its 464 soldiers in southern Iraq to suspend their operations outside coalition bases. Denmark rejected a push to bolster its 410-member force.
The Nasiriyah attack has raised fears that Iraqi resistance groups were gradually extending their area of operations to include the country's mainly Shiite Muslim southern regions, which have generally been well-disposed toward the U.S.-led coalition. The insurgency, which originated in the "Sunni Triangle" north and west of the capital, has spread in recent weeks to the northern city of Mosul, Iraq's third-largest.
In Washington, Bush expressed resolve to curb the violence against coalition forces.
"We're going to prevail," he said. "We've got a good strategy to deal with these killers."
Faced with a worsening security problem, coalition authorities said Thursday they would close a major bridge over the Tigris River which reopened about two weeks ago for the first time since the city fell in April. But on Friday, the bridge remained opened for traffic.
(Copyright 2003 by The Associated Press. All Rights Reserved.)
×
Most recent News stories