Estimated read time: 3-4 minutes
This archived news story is available only for your personal, non-commercial use. Information in the story may be outdated or superseded by additional information. Reading or replaying the story in its archived form does not constitute a republication of the story.
MOSUL, Iraq (AP) -- Saddam Hussein's sons Odai and Qusai were believed to have been killed Tuesday in a raid by U.S. forces who surrounded the home of a cousin, a senior U.S. official said. Two other Iraqis also were killed.
The official, a member of the Coalition Provisional Authority in Baghdad who spoke on condition of anonymity, said investigators were "awaiting positive DNA testing" to confirm the identities.
The raid triggered a gunbattle at the house in the northern city of Mosul, where residents told an Associated Press Television News cameraman that American soldiers had come looking for Saddam's elder sons.
The United States has offered a $25 million reward for information leading to Saddam's capture and $15 million each for his sons, who were top leaders in their father's regime.
Fighting broke out after members of the 101st Airborne Division surrounded the stone, columned villa, which belonged to one of Saddam's cousins, a key tribal leader in the region.
The building was left charred and smoldering, its high facade riddled with gaping holes from bullets and heavy weaponry. Kiowa helicopters roamed the sky.
Some Mosul civilians appeared to have been caught in the crossfire. It was not known how many people were injured, but several were taken to a hospital.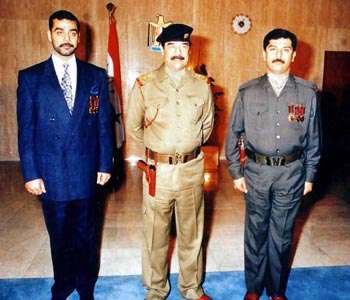 In Washington, Secretary of Defense Donald H. Rumsfeld briefed President Bush about the raid during an Oval Office meeting Tuesday morning.
Asked about reports of that Saddam's sons had been killed, White House spokesman Scott McClellan said he was "not in a position to confirm anything."
"The former regime in Iraq is gone, they are out of power," he said. "We're making important progress in stabilizing the country ... in going after the remnants of the former regime. and those who are enemies of a free and democratic Iraq."
Mosul, 240 miles northwest of Baghdad, is outside the so-called "Sunni Triangle" in central Iraq -- home to much of the remaining support for Saddam, a Sunni Muslim who used his Baathist Party to oppress the country's Shiite majority.
The triangle is also a center of anti-American resistance: In the latest attack, Tuesday, a U.S. soldier was killed and another wounded in an ambush along a dangerous road north of Baghdad.
His death brought to 153 the number of U.S. troops killed in action since the March 20 start of war, six more than during the 1991 Gulf War.
The U.S. Central Command said the attackers used rocket-propelled grenades and small arms in the assault staged along the road between Balad, 50 miles north of Baghdad, and Ramadi, 60 miles west of the capital. It gave no other details.
The U.S.-led coalition's military occupation of Iraq has been met by constant armed Iraqi resistance, resulting in almost daily deaths of American troops. Many recent assaults have been staged with remote-controlled roadside explosions.
The removal of Saddam's sons could have a major impact on the Iraqi resistance, which has seen a dozen attacks a day mounted against U.S. forces.
The attackers are believed to be former military officers and Baath Party leaders who are loyal to Saddam and his family -- especially to his sons, who played leading roles in the military and the deposed regime's feared security services.
Qusai was probably Saddam's successor, according to U.S. intelligence officials. He ran much of Iraq's security apparatus, controlling several militias, internal security services and the military forces of the once-vaunted Republican Guard.
He was described as quiet and level, particularly compared to Odai, Saddam's eldest son, who had a reputation for brutality and flamboyance. Odai controlled Saddam's Fedayeen, the paramilitary force that fought U.S. troops during the war; many of its survivors are thought to be part of the ongoing guerrilla campaign in Iraq.
Odai also controlled information and propaganda in Saddam's Iraq, and was chairman of the country's Olympic committee.
Saddam has a third, younger son and three daughters. All kept a low profile in his regime.
(Copyright 2003 by The Associated Press. All Rights Reserved.)
×
Most recent News stories