Estimated read time: 4-5 minutes
This archived news story is available only for your personal, non-commercial use. Information in the story may be outdated or superseded by additional information. Reading or replaying the story in its archived form does not constitute a republication of the story.
BAGHDAD, Iraq (AP) -- Insurgents targeting the U.S. occupation of Iraq detonated explosives under a military convoy west of Baghdad on Friday, killing an American soldier. U.S. military engineers discovered another bomb in Baghdad but defused it.
Opposition also came on the political front. A prominent Shiite Muslim cleric called on Iraqis to oppose their new U.S.-appointed government and vowed to establish a rival council "of the righteous."
The Americans, meanwhile, celebrated victory by blowing up a towering statue of Saddam Hussein in the deposed dictator's hometown and seizing its head as a war trophy.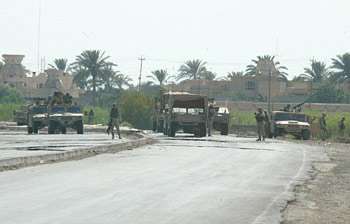 The attack on the convoy came Friday afternoon when a bomb was detonated by remote control at a traffic circle near the main bridge over the Euphrates River in Fallujah, a city west of Baghdad, according to Sgt. Amy Abbott, a military spokeswoman. She said a soldier from the 3rd Infantry Division died.
Shopkeeper Abdul Munin Ali, who was swimming in the Euphrates when he heard the explosion, said he saw four soldiers evacuated -- three in ambulances and one by helicopter. But a Pentagon spokeswoman said the dead soldier was the only casualty.
"America is the enemy of God," a crowd chanted as the servicemen towed away a charred Humvee.
The attack was the latest in a wave of anti-American violence in Fallujah, where many residents object to U.S. patrols, saying soldiers ogle Iraqi women and don't respect Iraqi traditions.
The Americans withdrew from key Fallujah positions last week, but anger at the Americans remains high.
"We support the attacks because they are occupiers and infidels," said Yasser Younis, who works in an ice factory. "They promised us democracy and reconstruction, but they have done nothing."
Insurgents also targeted American troops in Baghdad, leaving a 3-foot-long bomb on a highway median in the western part of the city. Army engineers spotted the device and dismantled it.
The bomb was built into a large mold for ice blocks and hidden in a white burlap sack, said Lt. Robertrel Sachi of Columbus, Ohio. "It was wired to a remote-controlled doorbell ringer. It had a 100-foot blast radius," he said.
Soldiers searched nearby houses but made no arrests. Troops dismantled the bomb's blasting cap and said they would explode it in a remote area.
"We blow that here, and we'll shatter every window for blocks around," Sachi said.
Several hours later, a large explosion rocked a site in southwestern Baghdad where the military often destroys ammunition.
The bomb was found at the same site where an attack on an American convoy Monday killed one soldier and wounded four. Residents said they were afraid.
"I'm worried, because my children always walk here," said Ali Mohammed, 31, a guard at a construction site near where the bomb was planted.
Also Friday, a U.S. intelligence official said a new audio recording purportedly of Saddam Hussein is probably authentic and likely was recorded recently. The official spoke on condition of anonymity.
In the message aired Thursday, the 35th anniversary of the coup that brought Saddam's Baath Party to power, the speaker urged Iraqis to continue a "holy war" against U.S. forces.
Violence against U.S. troops has been concentrated in Iraq's "Sunni Triangle," stretching north and west from Baghdad.
Iraq's minority Sunni Muslims have long ruled the country, and many of them fear Saddam's ouster will swing the balance of power to majority Shiites. The new 25-member ruling council, appointed by the Americans, has a slim Shiite majority.
At a major Sunni mosque in Baghdad, formerly known as the Mother of all Battles Mosque, preacher Khalid al-Dari called Friday for the Americans to leave Iraq and said the new U.S.-appointed government "will enshrine Iraq's sectarian differences."
But imams at some Shiite mosques had harsh words for the Americans as well.
Imam Moqtader al-Sadr called thousands to a prayer session in the central holy city of Kufa. Speaking to a crowd that overflowed onto the streets around the mosque, he said the government is comprised of "nonbelievers" who don't represent the people.
"We will not cooperate with the council," he told the crowd. "We will form our own council. Iraq will then have two councils: one of the wrongdoers and one of the righteous."
"Zionists!" the crowd chanted. "Zionist council!"
In an interview later with The Associated Press, al-Sadr said he would launch a parallel government and draft a constitution in consultation with all the country's Islamic movements.
"Eventually, we'll have a referendum separate from the Americans and, God willing, elections separate from the Americans," he said.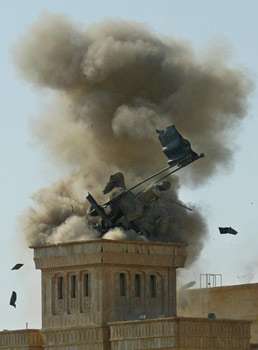 In the northern city of Tikrit, soldiers from the 4th Infantry Division used plastic explosives to topple a 30-foot bronze statue of Saddam brandishing a sword atop a rearing horse.
Pulling out their cameras, some soldiers stomped on the head of the statue, while others posed atop it.
The soldiers carted the head to their base. The rest of the bronze will be shipped to Texas, where it will be melted down for a memorial, said Sgt. Maj. Gregory Glen.
The toppling of Saddam's statue didn't play well for some in Tikrit.
"He was the symbol of Iraq, and this action was like a challenge to us," said 32-year-old Hayam Latif. "We are ready to sacrifice ourselves for Saddam."
(Copyright 2003 by The Associated Press. All Rights Reserved.)
×
Most recent News stories