Estimated read time: 5-6 minutes
This archived news story is available only for your personal, non-commercial use. Information in the story may be outdated or superseded by additional information. Reading or replaying the story in its archived form does not constitute a republication of the story.
BASRA, Iraq (AP) -- The selection of the core of Iraq's interim government will begin by mid-May, and a group of Iraqis may take the reins, the U.S. civil administrator said Monday. One of Saddam Hussein's top biological weapons scientists -- known as "Mrs. Anthrax" -- has been captured, American officials said.
The northern city of Mosul, meanwhile, took a small step in forming a municipal government, selecting a cross-section of residents to run the city alongside the American military until elections can be held, U.S. military officials said.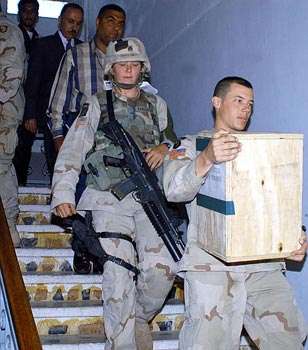 The captured scientist, a 49-year-old Huda Salih Mahdi Ammash, was taken into custody Sunday, a Defense Department official said, speaking on condition of anonymity.
Ammash, who earned her Ph.D. from the University of Missouri, was No. 53 among the top 55 most-wanted members of Saddam's regime. U.S. intelligence officials said she is believed to have played a key role in rebuilding Iraq's biological weapons capability since the 1991 war.
The arrest of a former Iraqi intelligence chief was announced by the U.S. military. The Army's V Corps had no details other than his name, Adil Salfeg Al-Azarui. Al-Azarui, a Baath Party official, also was once the mayor of Tikrit, Saddam's hometown. He was not on 55 most-wanted list.
Iraq's U.S. administrator, Jay Garner, said he expected a "nucleus" of Iraqis to assume leadership. The idea was discussed last week at a meeting in Baghdad.
He said he did not know whether the nucleus would evolve into a collective executive for Iraq.
"I don't know whether there will be one guy or five guys or three," Garner said during a trip to southern Iraq.
"By the middle of the month, you'll really see a beginning of a nucleus of an Iraqi government with an Iraqi face on it that is dealing with the coalition," he said.
Iraqi faction leaders and U.S. envoy Zalmay Khalilzad said they would meet again in coming weeks and hoped to form an interim government early next month.
The Iraqi leaders Garner referred to were Massoud Barzani; leader of the Kurdistan Democratic Party; Ahmad Chalabi of the Iraqi National Congress; Jalal Talabani of the Patriotic Union of Kurdistan; Iyad Allawi of the Iraqi National Accord; and Abdul Aziz al-Hakim, whose elder brother heads the Shiite group Supreme Council for Islamic Revolution in Iraq.
The group has met several times, and Garner said it would probably be expanded to include a Christian and perhaps another Sunni Muslim leader.
Garner also said he expects the newly appointed L. Paul Bremer, former head of the U.S. State Department's counterterrorism office, to take charge of the political process within the American postwar administration. Bremer is expected in Iraq by next week, Garner said.
"He will get more involved in the political process. I'm doing all of it and don't want to do all of it," Garner said.
He said the appointment of someone like Bremer had been planned all along. "I'll stay a while. There's got to be a good handoff," he said.
Garner traveled Monday to Basra, where he heard from officials at Basra General Hospital. Outside the closed-door meeting, Dr. Hussein al-Farhan said about 70 people a day seek treatment for the effects of lack of clean water.
"There are many cases of gastroenteritis because of bad water," he said.
He said the hospital is short of drugs, particularly painkillers and anesthetics.
"Aid organizations are bringing only water when we need drugs as well," he said.
Doctors also complained that the security situation remains dangerous in Basra, Iraq's second-largest city.
Garner and his team visited several wards in the hospital and saw a poorly supplied, ill-kept institution.
"We will bring in quick cash in to make a quick difference," said Garner's deputy, British Maj. Gen. Tim Cross. He stressed, however, that this would not be a long-term commitment to rebuild Iraq's health-care system.
The newly named regional coordinator, Danish Ambassador Ole Wohlers Olsen, said he planned to return to Basra on Friday with cash to pay doctors' salaries and other commitments.
From the hospital, Garner's entourage drove to the Shueiba oil refinery, Iraq's second-largest. The general manager, Taha Ibrahim, told reporters the refinery resumed operations Thursday and is processing 70,000 barrels of oil a day, producing liquid petroleum gas, diesel oil, kerosene and gasoline.
He said the site has a capacity of 180,000 barrels per day, and he expects to reach that level in weeks or months, though he said the refinery could use some spare parts to ensure full production.
Garner blamed U.N. sanctions for gasoline shortages that have made some Iraqis angry at American forces, The New York Times reported.
"The U.N. really needs to lift the sanctions so we don't have all of this," Garner said.
Gasoline shortages have limited public transportation and discouraged Iraqis from driving to work. President Bush has urged the U.N. Security Council to lift the sanctions, which were imposed after Iraq invaded Kuwait in 1990.
In Mosul, Iraq's third-largest city, more than 200 representatives of tribal and ethnic groups chose a mayor and city council. Retired army Gen. Ghanim al-Boso, an Arab, was selected as mayor, CNN reported.
Lt. Col. Ryan Gonsalves, a U.S. military commander in Tikrit, said the council would be a "representation from the entire city of Mosul." He said people with expertise in various areas would be part of the council.
(Copyright 2003 by The Associated Press. All Rights Reserved.)
×
Most recent News stories