Estimated read time: 5-6 minutes
This archived news story is available only for your personal, non-commercial use. Information in the story may be outdated or superseded by additional information. Reading or replaying the story in its archived form does not constitute a republication of the story.
(AP) Iraqis exercised new freedoms and jockeyed for power in a new era on Friday, marching in Baghdad to demand the quick withdrawal of the same American troops and tanks that toppled Saddam Hussein.
"No to America, no to Saddam, our revolution is Islamic," chanted the demonstrators who spilled into the streets after prayers at one 1,300-year-old Sunni Muslim mosque.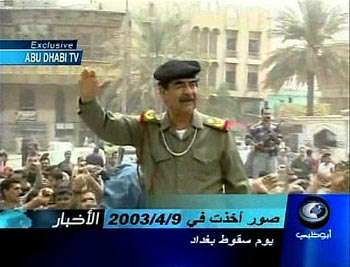 At the same time, there were fresh reminders of the old regime, and the airing of a new videotape rekindled debate about Saddam's fate. Australian officials disclosed the discovery of dozens of Iraqi warplanes hidden at a vast airbase west of the capital, and American troops took custody of another leading figure from Saddam's inner circle.
Abu Dhabi television aired the videotape, said to show Saddam in Baghdad on April 9, the day the city fell to American forces and his regime collapsed.
By contrast, a longtime Iraqi official said he believed Saddam had perished in an American bombing on April 7. "He must have been killed or everything would not have collapsed so quickly," said Sami Sadoun, who was most recently Iraq's ambassador to Serbia-Montenegro. He spoke in an interview with The Associated Press.
Power remained shut off for most residents in Baghdad, a city of 5 million. "Without power there is no peace," said Haifa Aziz, manager of a power substation.
Still, there were signs of progress in a city struggling to emerge from war and lawlessness.
"We haven't had enemy contact in four days," said Staff Sgt. John Jamison, a Marine spokesman in the capital.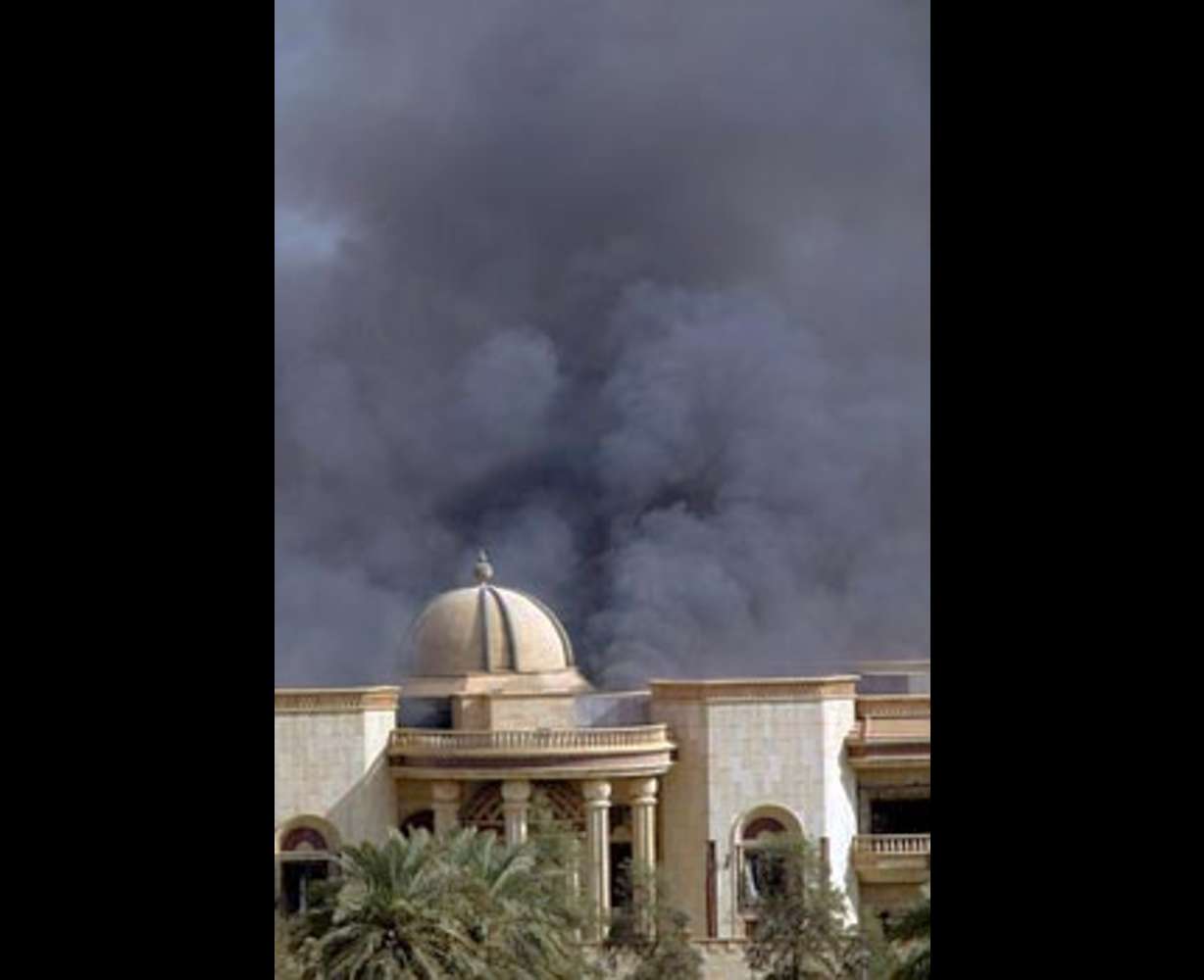 And officials reported that a small number of antiquities looted from the National Museum had been returned. Jabar Hilil, Iraq's antiquities chief, said the items returned included pottery and metal pieces. "It was their conscience that made them bring that stuff back," he said.
Thousands marched through the city's downtown, urged on at Holy Day prayers by an imam recently returned to Iraq after years in exile.
Some protesters carried banners that said, "Leave our country. We want peace," and many raised their right fists in the air and chanted, "America is God's enemy."
Inside the 1,300-year-old mosque, Sheik Ahmed al-Kubeisy said, "We will not accept a government that will oppress us. There must be an elected government."
Addressing some of his remarks to Americans, he added, "You are masters today. But I warn you against thinking of staying. Get out before we force you out."
In another Baghdad neighborhood, opposition leader Ahmed Chalabi and followers of his Iraqi National Congress established makeshift headquarters in two social clubs. Armored U.S. vehicles and elements of the new Free Iraqi forces provided security.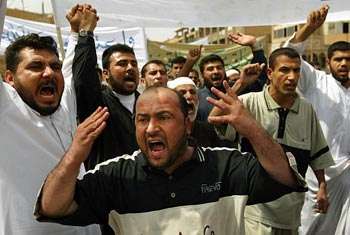 After years of exile, Chalabi was flown into Iraq recently by American forces, and some in-country opposition figures have complained he was getting preferential treatment from the Pentagon.
In his first public appearance in Baghdad, Chalabi said anew that he is not a candidate to become Iraq's new leader.
He said he expects an interim Iraqi authority to take over most government functions from the U.S. military in "a matter of weeks rather than months."
He said he envisions "first reconstruction of basic services" under the control of Jay Garner, the retired American lieutenant general poised to run a military administration. Once that is done, Chalabi said the U.S. military will search for weapons of mass destruction, dismantle the old regime's "apparatus of terror" and disarm its army.
Officials in Garner's office had no quarrel with Chalabi's remarks.
But representatives of other groups jockeying for power in postwar Iraq were unimpressed. Mahmoud Osman, a Kurdish leader living in London, said Chalabi looked like "an American propagandist."
Hamid al-Bayati, a British representative for the Supreme Council for the Islamic Revolution in Iraq, said Chalabi might be "gambling on running for office" despite his claims to the contrary.
Australian Lt. Col. Mark Elliott said special forces found 51 MiG warplanes at a large airfield west of Baghdad, as well as armored vehicles, anti-aircraft weapons systems and an anti-aircraft missile system. The site also included bunkers capable of withstanding nuclear, chemical or biological attack, he said, and instruction manuals relating to weapons of mass destruction.
The emergence of the new videotape as well as an audiotape said to have been made by Saddam added to the mystery surrounding his whereabouts. Abu Dhabi television said both tapes were made on April 9, but there was no evidence of that. Nor was there proof that the Iraqi leader -- who was known to use doubles as a security precaution -- was involved in either production.
The videotape showed a man purported to be Saddam in the streets of Baghdad, greeted by a wildly cheering crowd. The audiotape carried a speech that appeared to acknowledge the American military triumph.
"Conquered people are the ones who eventually triumph over invaders. ...Your leadership is unshaken," it said.
American officials said they could not immediately determine whether either tape was authentic.
April 9 was also two days after American bombs destroyed a building in Baghdad where Saddam and his two sons were believed to be meeting. "I did not get any instructions, not even a single fax" after the bombing, said Sadoun, the Iraqi ambassador and longtime regime figure.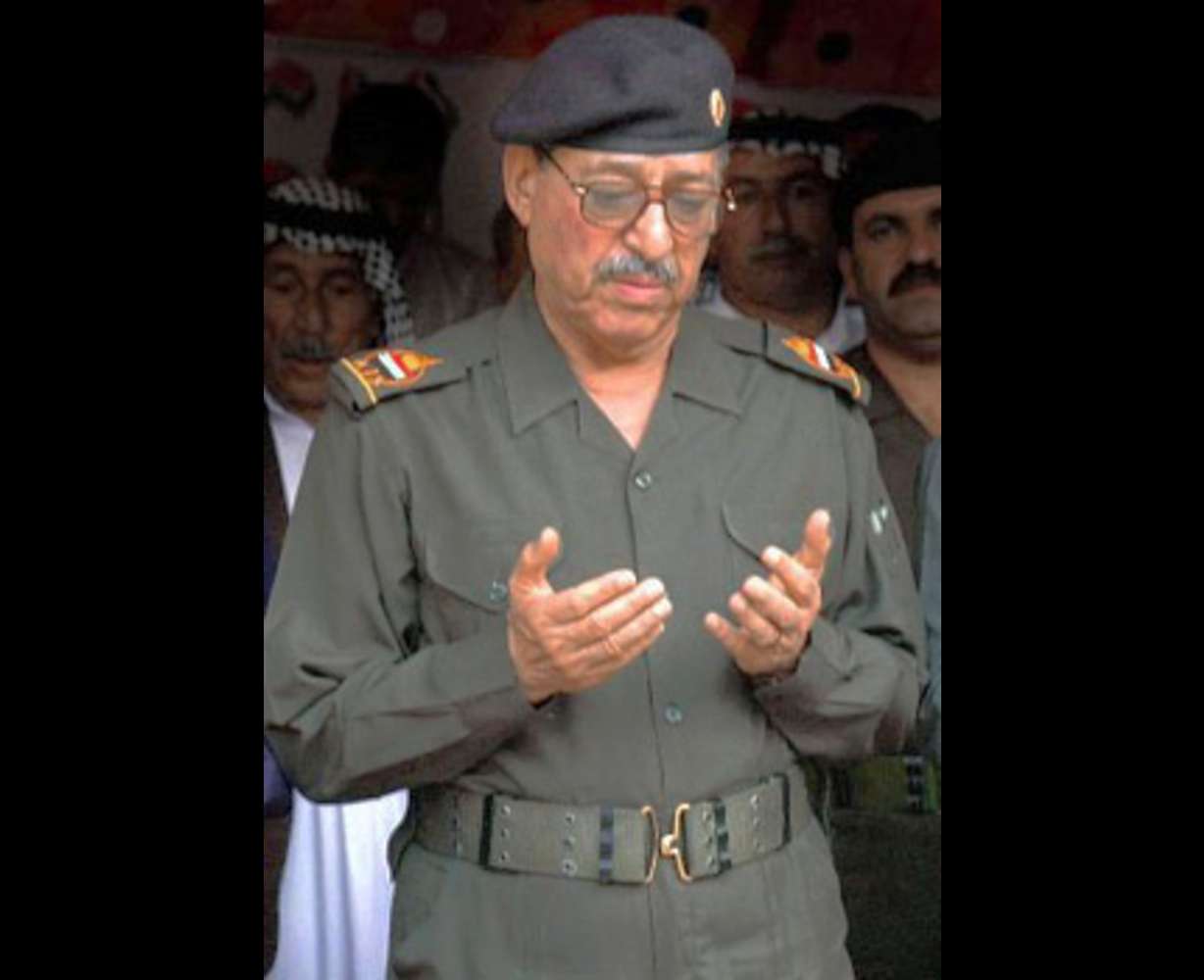 Brooks also announced that forces had captured Samir Abd al-Aziz al-Najim, the Baath Party Regional Command Chairman for east Baghdad, the four of clubs on the Pentagon's deck of cards showing most-wanted Iraqis. He was handed over by Kurds near the northern city of Mosul overnight, Brooks said.
At the same time, the Pentagon reported the release of 887 Iraqi prisoners taken earlier in the war, determined to be noncombatants. Officials said American and British forces continue to hold 6,850 prisoners.
In a postscript to the fighting, British Prime Minister Tony Blair said in an interview published in London that he had been prepared to resign if a majority of Labor lawmakers opposed his decision to back the war. He told civil servants and his children of his intentions, according to the interview published in The Sun.
Despite a revolt in the ranks, a comfortable majority of Labor lawmakers backed Blair and supported the war in key votes.
(Copyright 2003 by The Associated Press. All Rights Reserved.)
×
Most recent News stories