Estimated read time: 2-3 minutes
This archived news story is available only for your personal, non-commercial use. Information in the story may be outdated or superseded by additional information. Reading or replaying the story in its archived form does not constitute a republication of the story.
RAMSTEIN AIR BASE, Germany (AP) -- A smiling Army Spc. Shoshana Johnson was carried out on a stretcher from a plane and taken for medical examinations at a military hospital Wednesday night along with six other American POWs who were rescued in Iraq.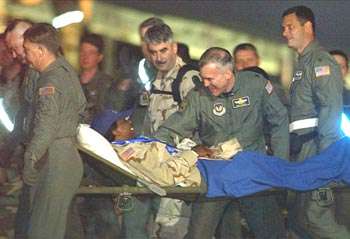 The seven were brought on a C-141 transport aircraft from Kuwait to this U.S. base, the latest stop on their return home after three weeks in Iraqi captivity.
Six of the former POWs, dressed in military fatigues, walked down the aircraft's rear ramp, two of them shaking hands with air base workers and three waving at reporters who waited about 50 yards away.
Johnson, who was shot in the foot during the ambush that led to her comrade's capture, was carried off the plane on a stretcher, partly covered by a blue blanket and wearing fatigues. Smiling and wearing a blue baseball cap, the 30-year-old from Fort Bliss, Texas, was greeted by applause from a group of about 20 air base workers.
The seven boarded a blue bus with red cross symbols for the trip to the nearby Landstuhl Regional Medical Center.
Five of the freed prisoners were comrades of former POW Jessica Lynch from the U.S. Army's 507th Maintenance Support Company, the other two freed Apache helicopter pilots from the 1st Battalion, 227th Aviation Regiment.
None of the group was expected to stay long at Landstuhl. Also wounded was Spc. Edgar Hernandez, 21, of Mission, Texas, who was shot in the elbow.
The transport plane that brought them also carried 41 wounded soldiers, about half of whom had combat injuries.
Whether the seven former POWs will return to the United States together depends on their medical conditions, Landstuhl spokeswoman Marie Shaw said.
"Most seem to be in very good health," Shaw said. "First we have to see them."
Since reaching Kuwait on Sunday after their dramatic rescue from a house south of the Iraqi city of Tikrit, the former POWs have been kept away from news media and undergone medical checks, both physical and mental, and debriefings.
The freed members of the 507th are Johnson, Hernandez; Spc. Joseph Hudson, 23, of Alamogordo, N.M.; Pfc. Patrick Miller, 23, of Park City, Kan.; and Sgt. James Riley, 31, of Pennsauken, N.J.
The freed pilots are Chief Warrant Officer David S. Williams, 30, of Orlando, Fla., and Chief Warrant Officer Ronald D. Young Jr., 26, of Lithia Springs, Ga..
Landstuhl is the largest U.S. military hospital outside the United States, and so far has treated more than 200 patients with battlefield injuries from the war in Iraq.
Among them was Lynch, who was flown back to the United States on Saturday.
(Copyright 2003 by The Associated Press. All Rights Reserved.)
×
Most recent News stories