Estimated read time: 5-6 minutes
This archived news story is available only for your personal, non-commercial use. Information in the story may be outdated or superseded by additional information. Reading or replaying the story in its archived form does not constitute a republication of the story.
(AP) Iraqis met under American auspices to shape a new government Tuesday and said "the rule of law must be paramount" following Saddam Hussein's fall. In a war dividend, U.S. officials said they had taken Palestinian terrorist Abul Abbas into custody in Baghdad.
Four weeks after U.S.-led forces unleashed their assault, President Bush promised to "liberate every corner" of Iraq and American troops hastened to redeem his pledge. Marines solidified their grip on Tikrit, Saddam's hometown, and American officials said fighting had ended in Qaim, a town near the Syrian border.
Acting on a tip, commandos searching a home in Baghdad found a weapons cache with a sizable chemical laboratory and documents they said were instructions on making chemical and biological weapons. They also reported finding a bomb concealed inside a bottle, another in an umbrella and a third in a telephone.
The U.S.-organized meeting on a new government drew scores of Iraqis to a gold-colored tent erected in Ur -- birthplace of the biblical patriarch Abraham -- and anti-American protest in a nearby city.
"No to America and no to Saddam," chanted thousands of Shiite protesters in Nasiriyah, exercising their new freedom of speech to object to the imminent creation of an American interim governing authority.
Inside the meeting, White House envoy Zalmay Khalilzad said the United States has "no interest, absolutely no interest, in ruling Iraq."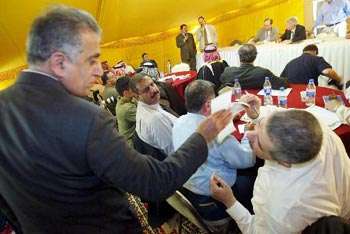 He added, "We want you to establish your own democratic system based on Iraqi traditions and values."
A 13-point statement released after the session envisioned a democratic country where "the rule of law is paramount." It said Saddam's "Baath party must be dissolved and its effects on society must be eliminated."
It wasn't immediately clear whether the paper was drafted by U.S. officials in advance of the meeting.
Abbas, the leader of a Palestinian group that killed an American on the hijacked cruise liner Achille Lauro in 1985, was captured by U.S. commandos on Monday, U.S. officials disclosed.
A number of his associates also were detained during raids at several sites around Baghdad, these officials said on condition of anonymity.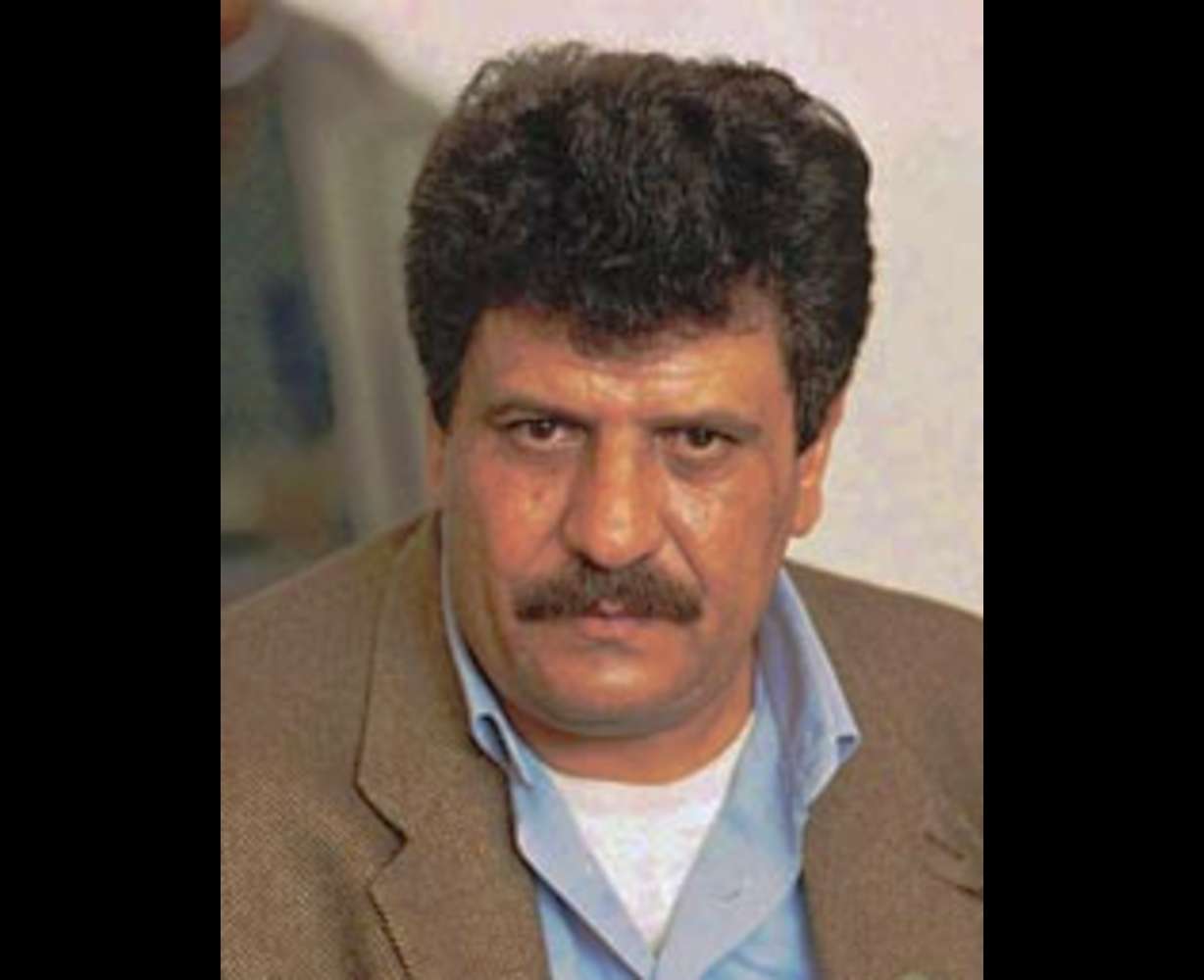 Abbas, whose name actually is Mohammed Abbas, led a faction of the Palestine Liberation Front, a Palestinian splinter group. His faction was in Tunisia until the attack on the Achille Lauro, after which it relocated to Iraq. Leon Klinghoffer, an elderly American, was shot and tossed overboard in his wheelchair during the hijacking.
There was no major combat during the day, but at least 10 Iraqis were reported killed and 16 injured in a clash between U.S. Marines and a stone-throwing crowd in Mosul in northern Iraq, The New York Times reported. Lt. Cmdr. Charles Owens, a spokesman at U.S. Central Command in the Persian Gulf, denied reports that U.S. troops shot into the crowd but said he didn't have other details about the incident.
Central Command reported an unidentified Marine was shot to death in Baghdad by a member of his unit who mistook him for an Iraqi soldier. Another Marine, Cpl. Ariel Gonzalez, 25, of Hialeah, Fla., was killed Monday when a commercial refueling vehicle collapsed on him in southern Iraq, the Pentagon said. Late Tuesday night, the Pentagon announced a third accidental death: Army Spc. Richard A. Goward, 32, of Midland, Mich., was killed Monday in a truck crash.
While anti-American sentiment flared in Iraq, U.S. forces also won cooperation from civilians eager to restore order and vital services.
Some Marines in Tikrit wore flowers in their uniforms, gifts from residents of the city.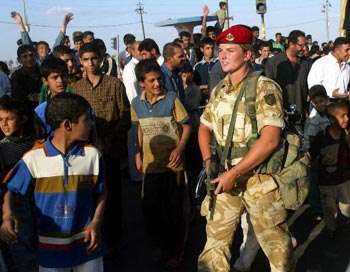 Joint Iraqi-U.S. patrols made their first forays into Baghdad. American commanders reported ample assistance from Iraqis eager to help troops uncover regime secrets.
"We're getting millions of these tips, some credible, some not so credible," said Lt. Col. Philip DeCamp. The United States was offering incentives, too. Defense officials said the Pentagon would pay up to $200,000 for information on the whereabouts of regime leaders.
Soldiers patrolling northern Baghdad found a mobile AM radio station in a warehouse at the Iraqi railroad yard, and worked to clear a city park from hundreds of munitions left from an Iraqi artillery and mortar position.
In Washington, the Bush administration dampened talk of possible military action against Syria. Secretary of State Colin Powell, who suggested diplomatic or economic measures might be taken, said Iraq was "a unique case" that required U.S. military action.
Administration officials have accused Syria of maintaining a program to develop weapons of mass destruction and of harboring members of the Iraqi regime seeking to flee. Syrian officials deny the allegations.
Still, at the Pentagon, Defense Secretary Donald H. Rumsfeld said he believed troops had shut down an illegal oil pipeline said to export up to 200,000 barrels daily to Syria.
For his part, Bush said, "Our victory in Iraq is certain, but it is not complete."
He added, "Today the world is safer, the terrorists have lost an ally, the Iraqi people are regaining control of their own destiny. These are good days for the history of freedom."
There was another sign that the conflict was nearing an end. French President Jacques Chirac, a prominent critic of the war, telephoned Bush. In their first conversation in more than two months, Chirac appeared to soften his demand that the United Nations have a central role in postwar reconstruction.
After nearly a quarter-century of living under a regime that punished dissent with death, Iraqis experimented with newfound freedoms.
"Americans are against freedom and democracy," shouted one man in Tikrit, Saddam's birthplace and the last major population center to fall to U.S.-led forces.
And in Kut, military officials said hundreds of protesters blocked Marines from entering city hall to meet a radical anti-American Shiite cleric who has declared himself in control.
The meeting near Ur took place close to a 4,000-year-old ziggurat, a terraced-pyramid temple of the ancient Assyrians and Babylonians. Participants included Kurds, Sunnis and Shiites from inside the country as well as others who have been in exile.
Americans picked the groups to be represented, but each faction selected its own representatives.
There were some boycotts, one of several indications of the difficulty confronting those attempting to build a government where religious and ethnic rivalries flourish. In addition, some Iraqi opposition leaders fear the United States is trying to impose Ahmed Chalabi, head of the Iraqi National Congress opposition group, as leader of a new Iraqi administration.
(Copyright 2003 by The Associated Press. All Rights Reserved.)
×
Most recent News stories